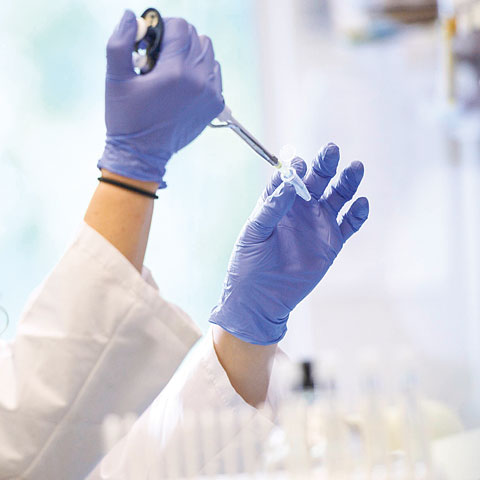 VIEW ALL POSTS
American Society for Clinical Oncology (ASCO) Recent Research Highlights
From Prevention Matters Newsletter, Spring 2016 [PDF]
By Elias Obeid, MD, MPH

Metastatic castration-resistant prostate cancer (mCRPC) is when the cancer has spread to parts of the body other than the prostate, and is able to grow and spread despite treatments being used to manage the cancer. For men with this type of disease, additional treatment is needed to help control the growth of the cancer.

A recent presentation at the American Society of Clinical Oncology (ASCO) meeting on Genitourinary Cancers (DeBono et. al. ) discussed the role of DNA repair as a target in treatment of mCRPC. 20-30 percent of patients with this type of prostate cancer are not able to repair DNA damage in the cell, sometimes due to inherited mutations in genes such as BRCA2. There is recent evidence that DNA repair defects lead to much worse outcomes.

PARP inhibitors (a type of cancer treatment targeting DNA repair) seems to have a promising activity in treating those mCRPC with DNA repair defects. PARP inhibitors are currently approved for use in ovarian cancer arising in the setting of an inherited BRCA1/BRCA2 mutation. This study paves the way for more research in this field with potential use of this therapy for certain mCRPC.

At ASCO, researchers discussed a clinical trial which used PARP inhibitor Olaparib for patients with mCRPC. The goal of the study was to evaluate the effectiveness of Olaparib as well as to find clinical biomarkers to see which patients will respond to this drug. The research has shown that PARP inhibitors may be a promising treatment for some patients with this type of prostate cancer, particularly if the mCRPC has a DNA repair defect or arising in the setting of an inherited BRCA mutation.

At Fox Chase, we currently have a clinical study, in collaboration with researchers from Jefferson, that is looking at the relationship between genetic mutations (some of them are involved in DNA repair) and the risk of prostate cancer. The results from this study are anticipated to inform men and their families about their risk of getting prostate cancer from an inherited predisposition. Given the findings by Debono et. al., our findings may help identify those at risk and potentially those who may benefit from targeted therapy for their cancer.