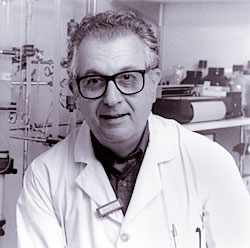 Co-inventor of Hepatitis B Vaccine Dies
Originally published in

Forward, Fall 2012  

Dr. Irving Millman

Immunologist Helped Save Millions of Lives Retired Fox Chase researcher

Irving Millman, who played an instrumental role in the development of the hepatitis B vaccine and screening test, died in April at the age of 88.

The hepatitis B vaccine is credited with saving millions of lives and adding several months to the average human life span. "Not many people can say they have had an impact like that," said Jonathan Chernoff, Fox Chase chief scientific officer, in a lengthy obituary in the Washington Post.

Millman's death came one year after that of Nobelist Baruch Blumberg, with whom he collaborated at Fox Chase to create the vaccine, which has been administered to billions of people worldwide. Millman's screening test led to a 25-percent reduction in the risk of contracting hepatitis B from blood transfusions. For these accomplishments, the scientist was inducted into the Inventors Hall of Fame in 1993.

Millman's experience in immunology and virology was pivotal to the Center's vaccine-development efforts, Fox Chase scientist W. Thomas London told the Washington Post.

London, who also worked on the hepatitis B research, explained that Millman devised a way to separate the hepatitis B virus from a human blood sample, purify and then kill the pathogen. The process was dangerous work that constantly exposed Millman and his colleagues to the virus.