"Fox Chase returned a part of me that I assumed had been lost."

‐Tom Maguire
Adventure and service have always been important themes in my life. My family loves to travel, camp, and especially dive. We got into diving many years ago, when my oldest daughter asked if she could try skydiving. I thought scuba diving was a safer choice.
As our daughters and son grew up, my wife and I always encouraged them to get involved in community service, and we volunteered along with them. When my son was in his teens, he combined our interests in volunteering and diving by becoming a recovery diver with the Garden State Underwater Recovery Unit. For almost a decade he and I have been part of a group that helps during water-related emergencies, recovering drowning victims and lost items, and coordinating with police for underwater evidence searches. Our family still goes on diving trips for fun, too.
In 2018 I was diagnosed with muscle invasive bladder cancer, which seemed like it would end my diving, but also provided me a new way to give back.
Having had no pain or other health concerns, I noticed blood in my urine in March 2018. It became heavier quickly, so I made an appointment with my longtime doctor, who prescribed medicine for a urinary tract infection. The pills cleared up the blood, but two weeks later it returned. After a second appointment, the doctor sent me to a urologist.
Seeking a Specialist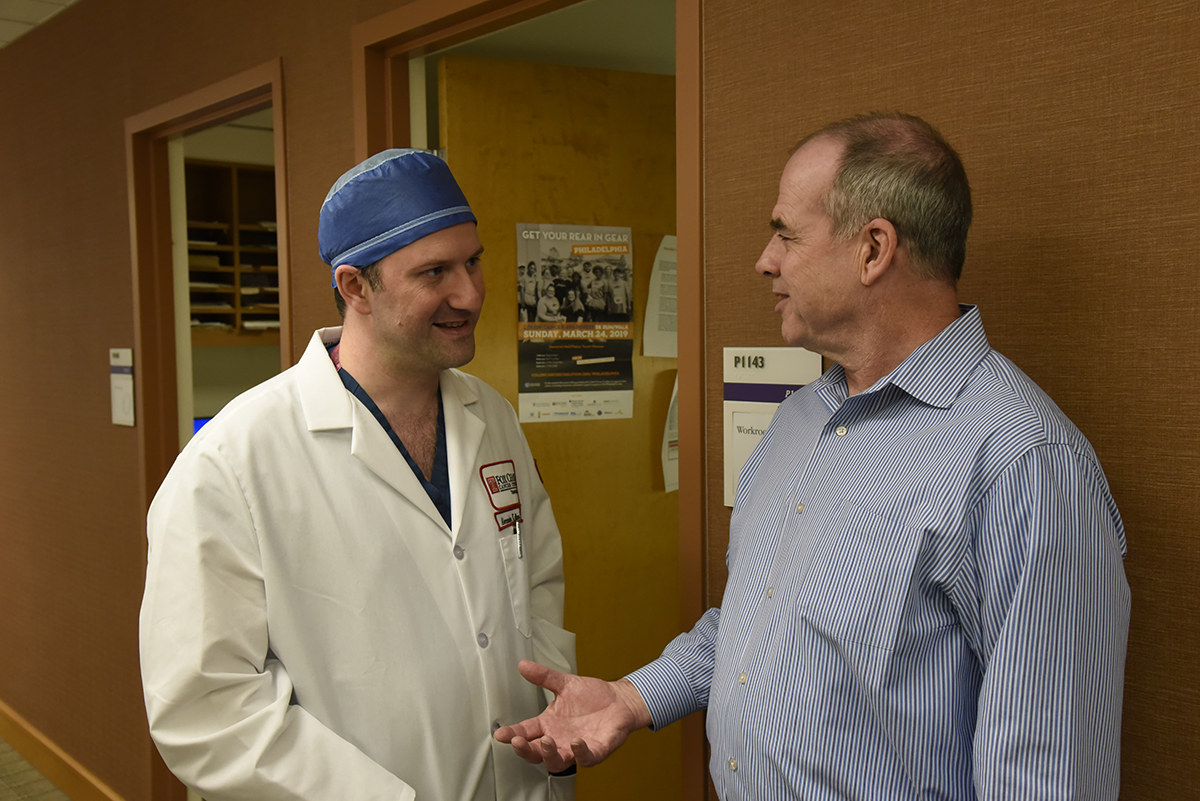 After several tests, the urologist diagnosed me with bladder cancer and said further tests were needed in order to determine whether the cancer had embedded in the lining of my bladder, making it muscle invasive bladder cancer. He told me if that's what it was, I would need more involved treatment than he could provide. When it turned out to be muscle invasive, I asked the doctor who he would choose to be his own doctor, and he sent me to Dr. Alexander Kutikov at Fox Chase.
My father had cancer in the 1970s, and he died very soon after his diagnosis. I assumed that's what would happen to me. At the time, my daughter was pregnant with her second child – my second grandchild. I was diagnosed in April, and all I wanted was to live until July, when the baby would be born.
Dr. Kutikov somewhat eased my worries, because he was confident that he could treat me successfully, but there was a catch. He explained that the standard of care for muscle invasive bladder cancer was chemotherapy followed by radical cystectomy, the removal of my bladder. My bladder would be replaced either by an external pouch or a neobladder, which he would create using part of my intestine. There were considerations with both alternatives, but both would end or severely compromise my ability to dive again. As upset as I was about having cancer, losing something that had been a central, not to mention fun, part of my life for so long felt like adding insult to injury.
A Clinical Trial Offers New Options
As I began to accept that the cost of surviving cancer would be losing an important part of my life, I met with Dr. Matthew Zibelman to start chemotherapy. He presented me a third option, which might allow me to keep my bladder and would give me a chance to use my cancer experience to help others who would be diagnosed after me.
Dr. Daniel Geynisman leads the RETAIN BLADDER trial, a clinical trial studying a new approach in bladder cancer treatment. Dr. Zibelman explained that up to 30 percent of muscle invasive bladder cancer patients might be able to keep their bladders and avoid surgery, and this trial was seeking a way to identify patients who could benefit. He said my treatment would proceed as planned, beginning with three rounds of chemotherapy. During that time, he would test my tumor for certain biomarkers and genetic mutations. If I had them, and they showed that the chemo effectively killed the cancer, I would be able to avoid surgery and keep my bladder. If the biomarkers weren't there, I would still need the surgery. Either way, my participation in the trial would help improve treatment options for other patients in the future. I agreed to join the trial.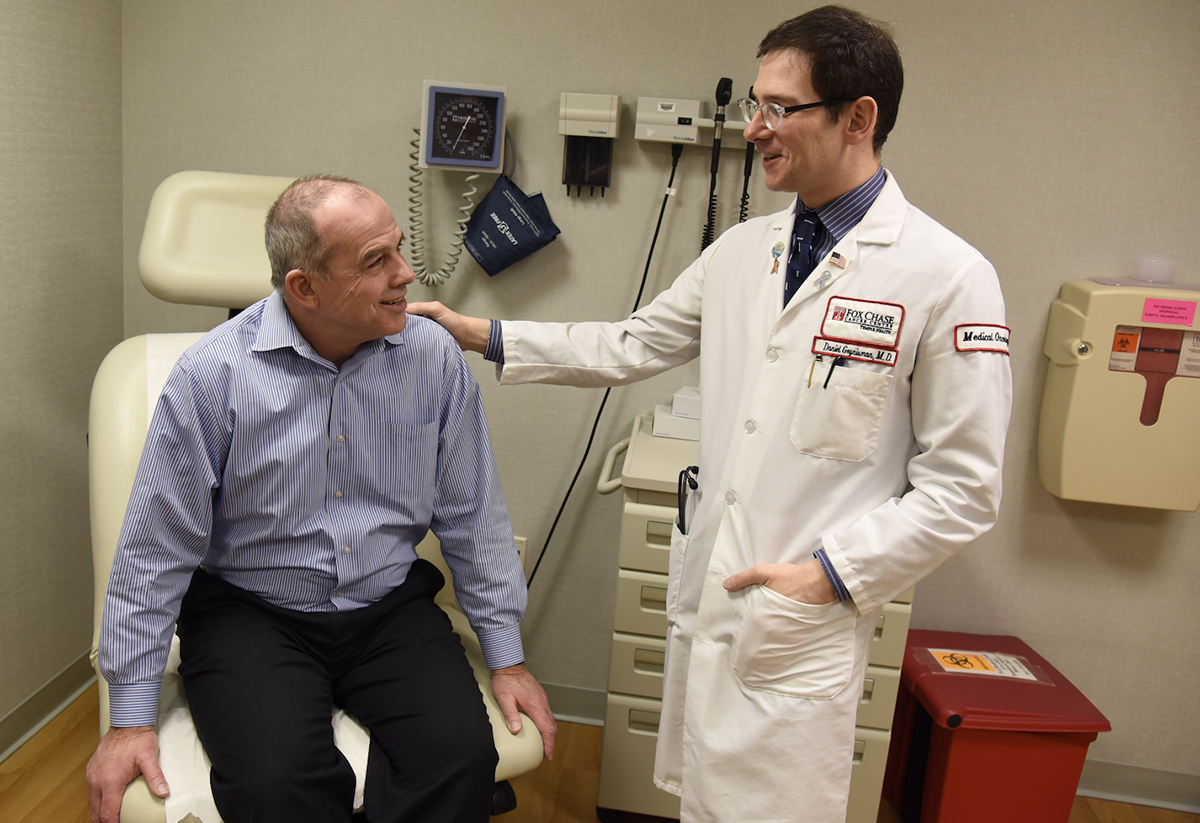 Fortunately I didn't have any side effects after the first two rounds of chemo. In both cases I was treated on a Thursday and was back at work the following Monday. At the appointment for my third and final chemotherapy infusion, Dr. Zibelman and Lois Malizzia, a clinical trial nurse who managed my care, told me that I did have the biomarkers I needed. There was a good chance I would keep my bladder.
Although I felt very tired and worn out after the third treatment, I was overwhelmingly happy about the clinical trial news.
Diving into Cancer Survivorship
A month later I found out I was cancer free, and I was going to keep my bladder. My life is full and rewarding, but I've never thought I had particularly good luck. I had come to terms with losing my bladder, and was focusing on which option I would be able to live with. But just like I dive to return lost items and lost people, Fox Chase returned a part of me that I assumed had been lost.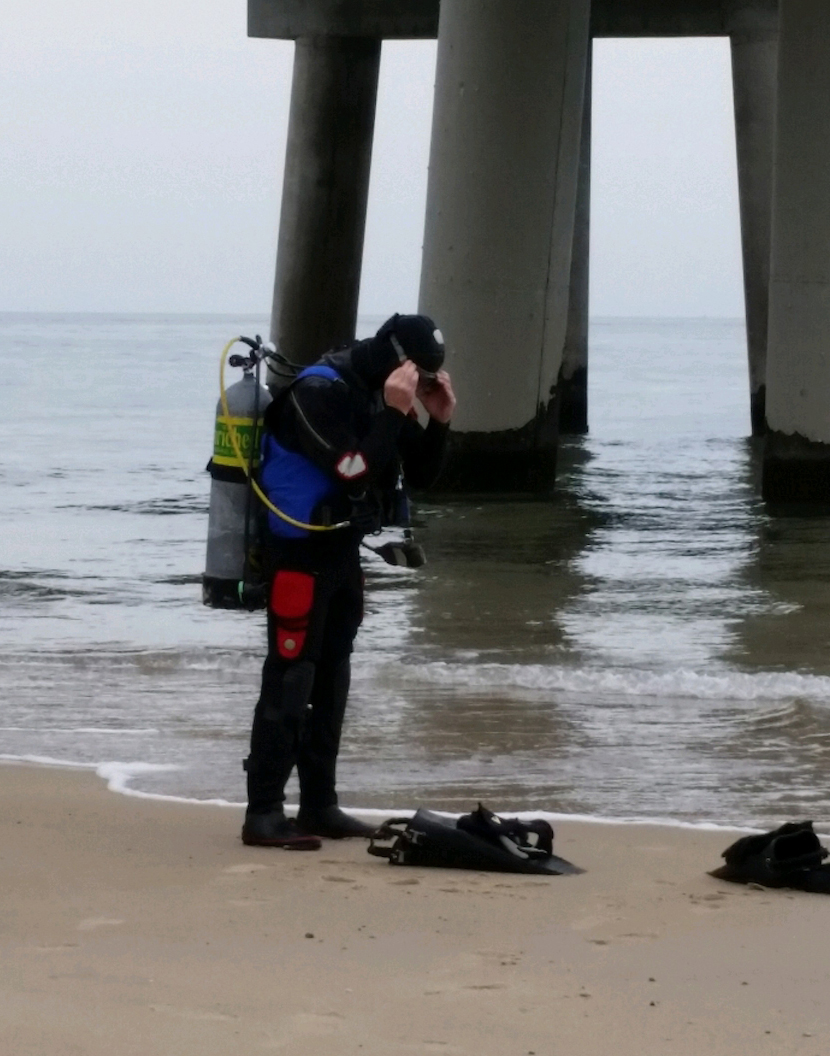 Originally I had expected to die at only 63 years old. Then I assumed I would live, but that my life would change drastically. Thanks to the team at Fox Chase, the only thing that changed was my outlook.
I consider all the time after cancer a second life, and I will always be grateful for Fox Chase for giving it to me. My follow up care involves an exam with Dr. Kutikov every three months for the next five years, including blood work and a cystoscopy to make sure I remain cancer free. The cystoscopy is uncomfortable, but it's a small price to pay for keeping my bladder.
I have no stress in my life anymore. The stress was the cancer, and it is gone. My wife and I travel, we camp, we dive, we go kayaking, and we frequently travel from our home near Philadelphia to Virginia Beach to spend time with our grandson and the granddaughter I wasn't sure I would get to meet.
Learn more about the bladder cancer treatment options available at Fox Chase Cancer Center.