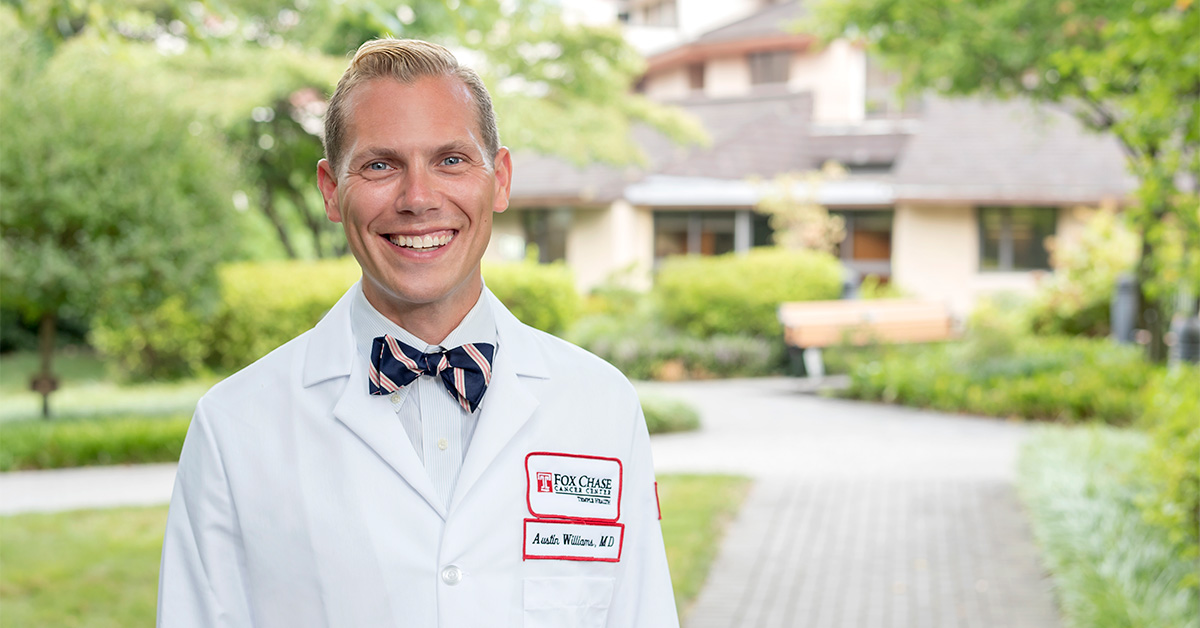 PHILADELPHIA (May 18, 2023)—Austin D. Williams, MD, MSEd, an assistant professor in the Department of Surgical Oncology at Fox Chase Cancer Center, received the Best Poster Award at the recent 24th Annual Meeting of the American Society of Breast Surgeons.
The poster detailed his research on sparing patients with certain breast cancers the morbidities associated with undergoing axillary lymph node dissection (ALND). The poster was selected from almost 250 submitted posters to be featured as a "Top 10" poster and was then voted best poster by meeting attendees.
Breast cancer can spread to nearby axillary lymph nodes located in the armpit area. ALND is a procedure used to remove lymph nodes located near a muscle that runs along the side of the upper chest.
"ALND is associated with lymphedema, or permanent arm swelling, in up to 25% of patients that undergo the procedure and is also associated with nerve damage that can cause numbness or loss of use of the arm," said Williams, who conducted the research with Lucy M. De La Cruz, MD, chief of the Breast Surgery Program at MedStar Georgetown University Hospital in Washington, D.C.
In some cases, an alternative to ALND is sentinel lymph node biopsy (SLNB). The first node in a group is called the sentinel node. Often, if no cancer is found in the sentinel node, the cancer has likely not spread, Williams said. "The morbidities seen with ALND only occur in about 4% of patients who undergo SLNB."
In historical clinical trials of breast cancers, node positivity was determined based on whether or not clinicians could feel or palpate an abnormal lymph node. However, in the modern era, many patients undergo breast MRI or ultrasound, and as a result more patients are being classified as clinically node positive.
"Most of our guidelines say that if a patient is clinically node positive, they should go right to ALND," Williams said.
In this study, Williams and De La Cruz wanted to determine if patients classified as clinically node positive prior to undergoing surgery that had low nodal disease burden could avoid ALND. The study included 45,660 patients with breast cancer who had either zero (8%), one to two (51%), or three or more (41%) positive lymph nodes on pathologic analysis.
"We found that about 40% of patients considered clinically node positive had three or more positive lymph nodes at the time of surgery," Williams said. "That means that 60% of patients with less than three positive lymph nodes could possibly have avoided ALND despite being labeled as clinically node positive."
Williams said the study results are limited by the fact that they did not have information on whether patients were labeled node positive based on physical examination or imaging.
"Additional studies with those data points would allow us to determine how patients labeled clinically node positive based on imaging faired," Williams said. "We also need to have a better understanding on whether or not it is safe to eliminate ALND from an oncologic outcomes perspective."