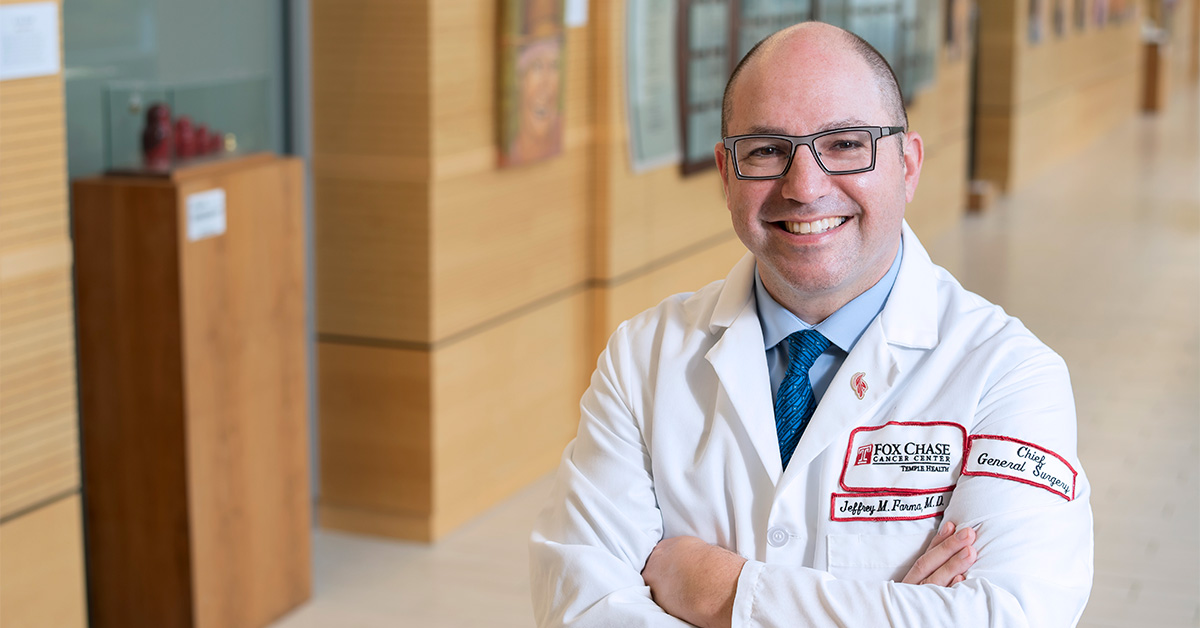 PHILADELPHIA (May 11, 2023)—Fox Chase Cancer Center's Jeffrey Farma, MD, FACS, chief of the Division of General Surgery, was recently awarded the 40th Michael E. DeBakey International Military Surgeon's Award at Walter Reed National Military Medical Center in Bethesda, Maryland.
The award is given each year to an international surgeon who has made specific and valuable contributions to the Department of Surgery at the Uniformed Services University of the Health Sciences as well as to the overall military surgical mission. 
"Throughout Fox Chase's history, we've had really robust experience training fellows that are in the military," said Farma, who is also interim chair for the Department of Surgical Oncology at Fox Chase. "We have a general surgery fellowship that is really suited for people who go into the military because they're required to be able to deal with every kind of histology. More importantly, they have to be able to deal with everything while being on deployment."
Farma was nominated by a current fellow as well as an alumnus of Fox Chase's Surgical Oncology Fellowship. His areas of interest are surgical and multimodal treatment of patients with melanoma, sarcoma, and colorectal cancers, and his expertise includes traditional surgery, regional therapies, and minimally invasive techniques. 
In addition to receiving the award, Farma was invited to present the 40th Michael E. DeBakey Surgical Lecture, "Current Trends in the Treatment of Sarcoma." 
The lecture is named in honor of Michael Ellis DeBakey, MD, a renowned general and cardiovascular surgeon whose surgical innovations included new procedures to repair aortic aneurysms and dissections, the development and first implantation of left ventricular assist devices, and the introduction of prosthetic vascular substitutes. DeBakey served as the Army Surgical Consultant at the end of World War II.  Subsequently, he was the primary surgeon in operations on dignitaries in 30 countries worldwide. 
Following his lecture, Farma was able to meet with faculty and tour the medical center, including its extensive rehabilitation and prosthetic facilities.
"It was really an incredible experience and honor to be able to deliver this lecture. It feels great knowing that we have had the privilege to train a lot of the military to go out and be surgical oncologists both within the military and in the private sector. This was a reflection of everything these men and women do for the country as well as what their work means as surgical oncologists," said Farma.