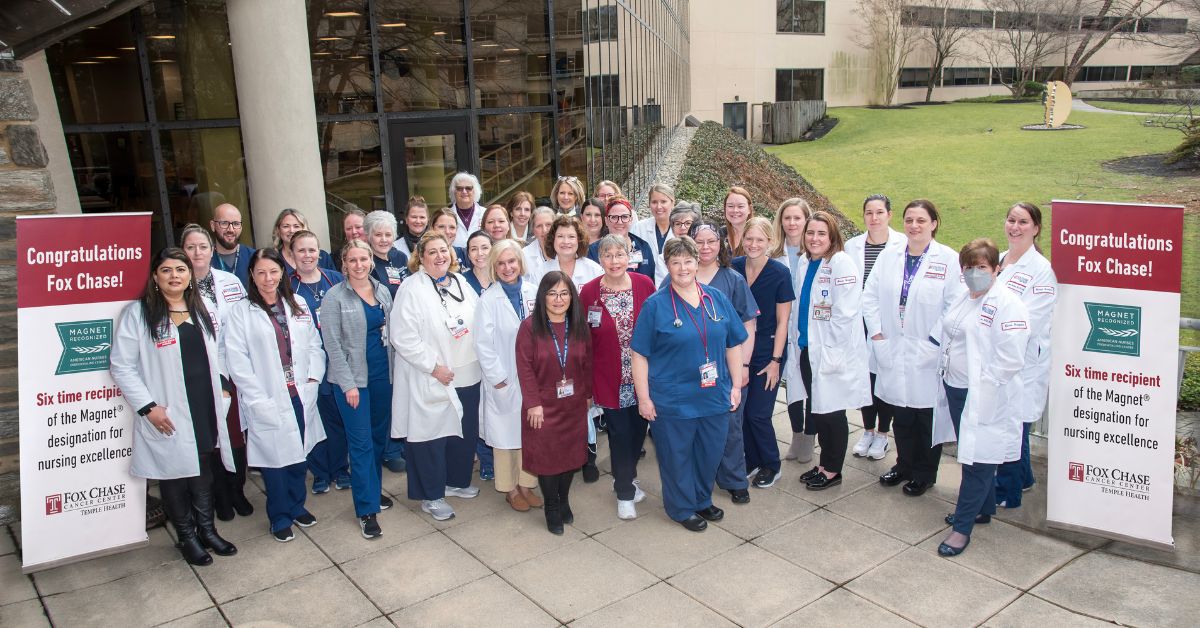 PHILADELPHIA (January 23, 2023)—Fox Chase Cancer Center has achieved Magnet designation for nursing excellence from the American Nurses Credentialing Center (ANCC) for the sixth consecutive time. Fox Chase has held Magnet status continuously since 2000, when it became the first hospital in Pennsylvania and the first specialty hospital in the United States to achieve Magnet designation.
"Earning Magnet status once is a great honor, but to earn it six consecutive times truly speaks to the level of nursing care that Fox Chase offers its patients," said Anna Rodriguez, MSN, MHA, RN, OCN, NEA-BC, Chief Nursing Officer and Vice President of Nursing and Patient Services at Fox Chase. "We are truly honored to be among an elite group of institutions who have received this honor."
A Magnet designation is used as the gold standard for quality of care and recognizes hospitals that exemplify excellence in nursing. Only about 10% of hospitals nationwide have attained this designation. Fox Chase has achieved it six times, which places it among only about 2% of hospitals nationwide.
Among many areas of performance, applicants must demonstrate outperformance of national benchmarks on nurse-sensitive clinical quality indicators, patient experience, and registered nurse satisfaction. Organizations must also demonstrate adherence to standards for improving the quality of patient care, interprofessional collaboration, leadership of the chief nurse executive in supporting professional practice, and continued competence of nursing personnel.
To achieve initial Magnet recognition, organizations must pass a rigorous and lengthy process that demands widespread participation from leadership and staff. This process includes an electronic application, written patient care documentation, an on-site visit, and a review by the Commission on Magnet Recognition.
Healthcare organizations must reapply for Magnet recognition every four years based on adherence to Magnet concepts and demonstrated improvements in patient care and quality. An organization reapplying for Magnet recognition must provide documented evidence to demonstrate how staff members sustained and improved Magnet concepts, performance, and quality over the four-year period since the organization received its most recent recognition.
"I am proud of our nursing department, physicians, and other departments who collaborate and continue to achieve increasing levels of an outstanding patient experience. The people who work here make us Magnet," said Kathy Wolf, director of Magnet/Nursing Quality at Fox Chase.
The ANCC established the Magnet Nursing Recognition Program in 1993.