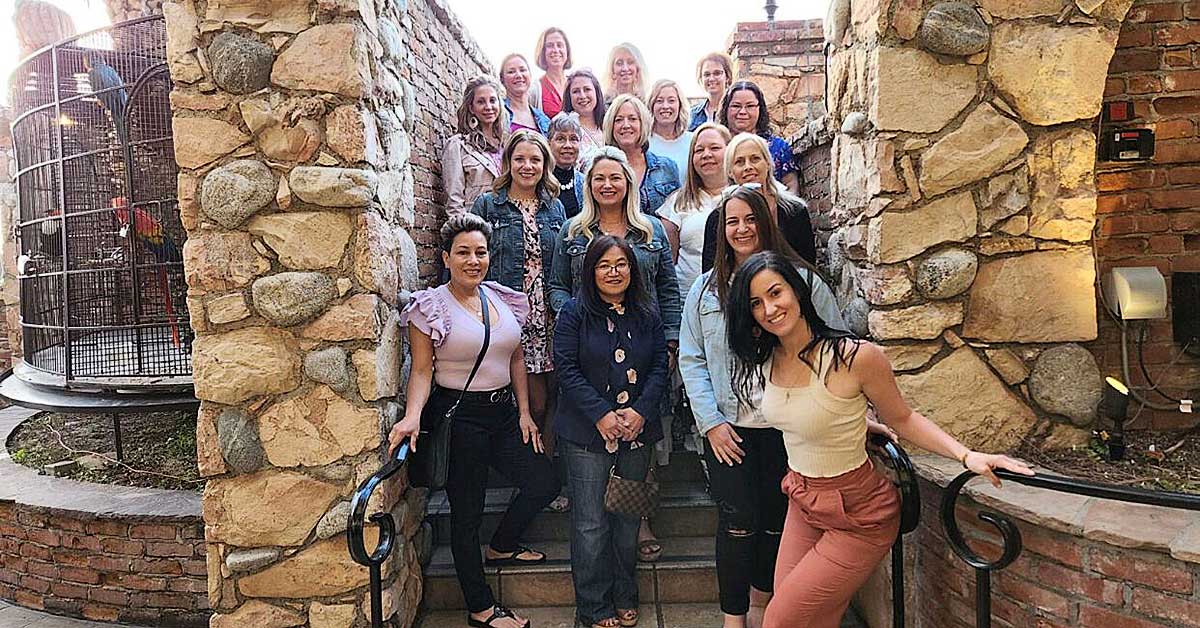 PHILADELPHIA (July 21, 2022)— Eighteen nurses representing multiple departments at Fox Chase Cancer Center recently attended the 47th annual Oncology Nursing Society (ONS) Congress in Anaheim, Calif. There, they had the opportunity to present research and projects they had conducted over the past year, as well as learn more about oncology nursing from colleagues from around the country.
"The purpose of this congress is to promote excellence in oncology nursing. Not only is it a great opportunity to experience the camaraderie of the field, but the nurses also get the opportunity to get together and share ideas for nursing practice, research, or updates in oncology," said Kathleen Wolf, MBA, BSN, RN, director of Magnet/Nursing Quality at Fox Chase.
Each year, the ONS Congress welcomes oncology nurses to explore advances in clinical knowledge, research, direct patient care, and advocacy. The congress is the largest, most comprehensive oncology nursing conference in the country. This year, 2,600 oncology nurses attended.
"It's a really wonderful learning experience for the attendees and a great opportunity to network with oncology nurses from other hospitals," said Wolf. "It's also great to have this kind of representation for Fox Chase through a number of presentations and attendees."
Nine projects from Fox Chase nurses were selected for presentation during the congress. These presentations, which focused on quality improvement and other field research, ranged from poster abstract presentations to oral and panel presentations.
"I had never been to the ONS Congress before, and it was also my first year as a presenter," said Jennifer Occhipinti, BSN, RN, a urologic oncology ambulatory care nurse. "It was really special to be able to speak at such a widely known conference."
Occhipinti works with many patients receiving gemcitabine and docetaxel, a salvage option for patients who want to avoid complete removal of the bladder due to cancer. She presented her research on the benefits of treating patients with sodium bicarbonate tablets before receiving this treatment.
"We do a two-part treatment here, where we instill the first chemo treatment into the bladder, the patient holds it for 90 minutes, and then they expel it. Then we instill the second chemotherapy and they go home and hold that for two hours," Occhipinti said.
"A lot of patients have a really hard time holding that medication, and we found out that the treatment is very acidic in nature. It just creates this hostile environment for patients and they're unable to hold it, which ultimately affects how well the treatment works," she added.
Through speaking with physicians, Occhipinti found that they could treat patients with sodium bicarbonate tablets the night before and the morning of treatment to help neutralize the pH of the urine and make it easier to hold. She implemented this step with eight patients and all were able to hold the medication for the full 90 minutes.
"We wanted to share this protocol with other urologic oncology teams so their patients will also benefit from the full treatment of intravesical chemotherapy for treatment of non-muscle invasive bladder cancer without cystectomy," said Occhipinti.
Among some of the other presentation topics were restructuring steps for new hire orientation in ambulatory care, implementing new smart forms in electronic medical records for oral chemotherapy compliance, and implementing a four-day work week for nursing leaders at comprehensive cancer centers.
"I was extremely nervous about presenting. But when you get there and there are other nurses piloting these ideas and interventions for quality patient care, it really makes you feel comfortable. The amount of overwhelming support that I received was unbelievable. I was amazed at how empowered I felt by their support," said Occhipinti.
The support wasn't just felt by presenters. Fox Chase nurses who attended the congress said the fellowship at the event was unparalleled and that collaborating with other nurses from across the country was an inspiring experience.
"Everywhere the camaraderie was great. Meeting people from other cities and hearing about their oncology experiences was amazing," said Christy Torres, RN, an infusion nurse. "It was just nice to meet new people and to know that we're all on the same team even though we're in different states and hospitals."
This sentiment was echoed by Kristen Starr, RN, a medical-surgical nurse. She said attending the event gave her a renewed sense of hope in what can sometimes be a difficult setting.
"I went to several sessions that discussed the newest research, and it helped me see that there's more hope than there sometimes seems. Newer drugs are leading to very good outcomes and helping people live longer," said Starr. "Especially on my floor, we see a lot of end-of-life aspects and we don't necessarily always see the hopeful side, so it was really nice to get that perspective. I hope I get the chance to do it again in the future."