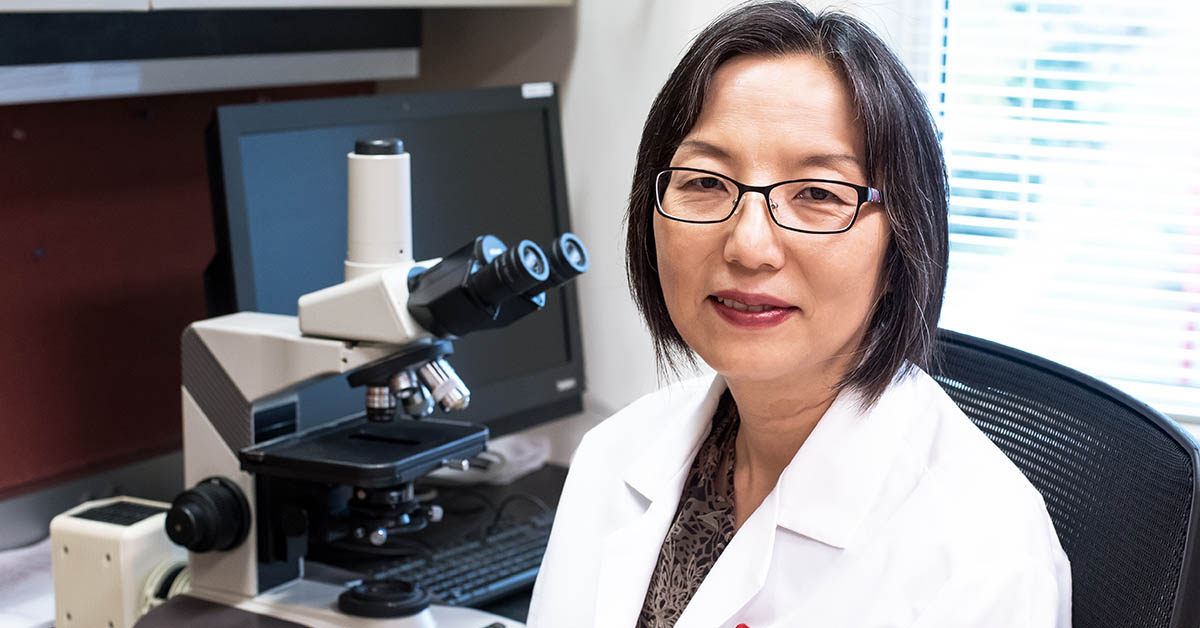 PHILADELPHIA (December 14, 2021)—Loss of the protein-tyrosine phosphatase SHP1 may be used as a biomarker to predict efficacy of ibrutinib in certain cases of diffuse large B-cell lymphoma (DLBCL), according to the results of a study by Fox Chase Cancer Center researchers presented in a poster at the 63rd ASH Annual Meeting and Exposition.
Y. Lynn Wang, MD, PhD, FCAP, lead author on the study and a professor in the Department of Pathology at Fox Chase, said there is currently a "very effective" therapy, ibrutinib, which is approved for many types of lymphoma, but not for DLBCL. Ibrutinib is a Bruton's tyrosine kinase (BTK) inhibitor; BTK is an important part of the B-cell receptor (BCR) signaling cascade.
"Other types of lymphoma are very sensitive to ibrutinib, so the question we have now is why this particular type of lymphoma does not yield the expected response we've seen with other types," she said. Wang conducted the study, "SHP1 Loss Augments DLBCL Cellular Response to Ibrutinib: A Candidate Predictive Biomarker," with colleagues at Fox Chase and other researchers in China.
Of the almost 70 different kinds of lymphoma, DLBCL is the most common type, accounting for 30% to 40% of all cases. Signaling via the BCR receptor plays a key role in B-cell lymphoma. Another part of the process is SHP1, a cytosolic protein tyrosine phosphatase that inhibits transcription, which Wang said functions like brakes on a car. Suppressed SHP1 expression has been reported in various types of non-Hodgkin's lymphoma.
"Our results show that SHP1 expression is suppressed in a substantial fraction of DLBCL tumors," said Wang. "From this, we hypothesized that lack of SHP1 may contribute to the hyperactivity of BCR in DLBCL and sensitivity to ibrutinib." Wang said this is analogous to a car when the brakes fail, causing the car lose control.
She said results of the study did in fact indicate that loss of SHP1 increases BCR signaling activity and sensitizes tumor cells to inhibition by ibrutinib, which helps to decelerate the cancer "engine." This loss of SHP1 may be used as an alternative biomarker to identify a subset of DLBCL patients who could potentially benefit from ibrutinib treatment, Wang added.
"From a therapeutic perspective, our results suggest that reducing SHP1 pharmacologically may represent a strategy to augment tumor response to BCR-directed therapies," said Wang.
"Our study also provides an important potential predictive biomarker for a subpopulation of diffuse large B-cell lymphoma patients to receive this particular drug. We talk a lot about precision medicine, which is about understanding a tumor characteristic and then being able to match that tumor characteristic with a particular therapy. This study is a small step toward the goal of precision medicine," she said.