PHILADELPHIA (November 24, 2021)—Fox Chase Cancer Center is pleased to announce the hiring of Pamela Handelsman, PsyD, as an assistant professor in the Section of Psychiatry, where she will help patients cope with cancer across the entire care continuum, from initial diagnosis to end of life or survivorship.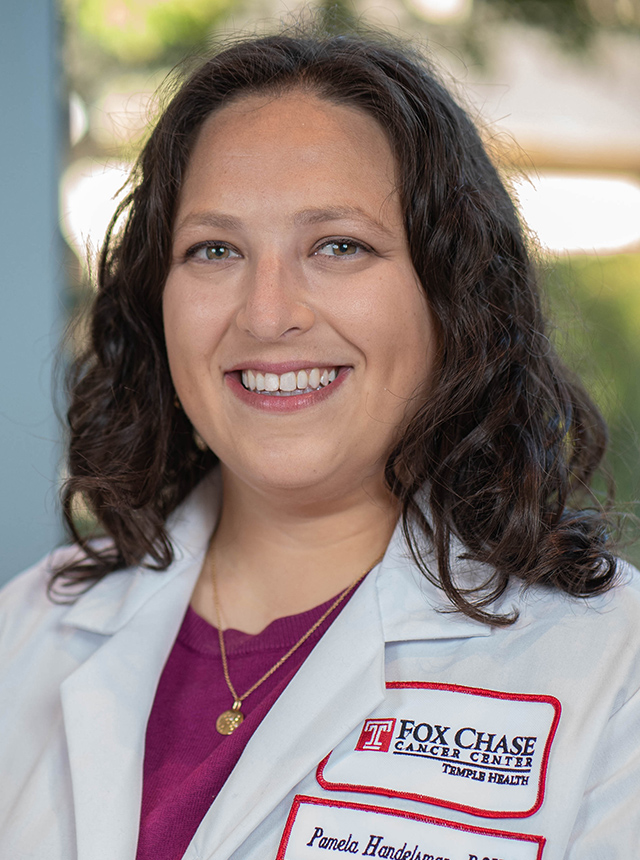 This includes both coping with the emotional and existential impact of cancer, as well as providing behavioral interventions for cancer-related symptoms such as pain, cancer-related fatigue, and sleep.
Before coming to Fox Chase, Handelsman worked at the VA Maryland Healthcare System (VAMHCS) as a health psychologist. During her time there, she was a clinical supervisor for health psychology interns and fellows and was a preceptor for family medicine and neurology residents.
She also helped roll out an innovative transdisciplinary acceptance and commitment therapy-based pain management protocol for patients, developed a hospice and palliative care psychology presence on the acute floors, and was integrated into the oncology and infectious disease teams. She also served on the executive board for the mental health diversity committee.
After receiving her Bachelor of Arts degree from Boston University, Handelsman earned a Master of Arts in clinical psychology from Roosevelt University in Chicago, where she also earned her Doctorate in Clinical Psychology. She completed her internship at the Washington, D.C., VA Medical Center and a postdoctoral fellowship in HIV and advanced liver disease at the VAMHCS.
Handelsman has experience in research as a principal investigator, research coordinator, and project coordinator for various projects. Additionally, she has published articles in several journals in her field and presented at various meetings. She has also been an invited lecturer at many universities and organizations such as the Hines VA Hospital.
Handelsman has served as a Health Disparities Ambassador for the American Psychological Association and is member of the American Psycho-Oncology Society. Her accolades include the VA Gold Pin Award and the Psychology Service Award, which she received during her time at Boston University.
Handelsman began her tenure at Fox Chase on October 1.