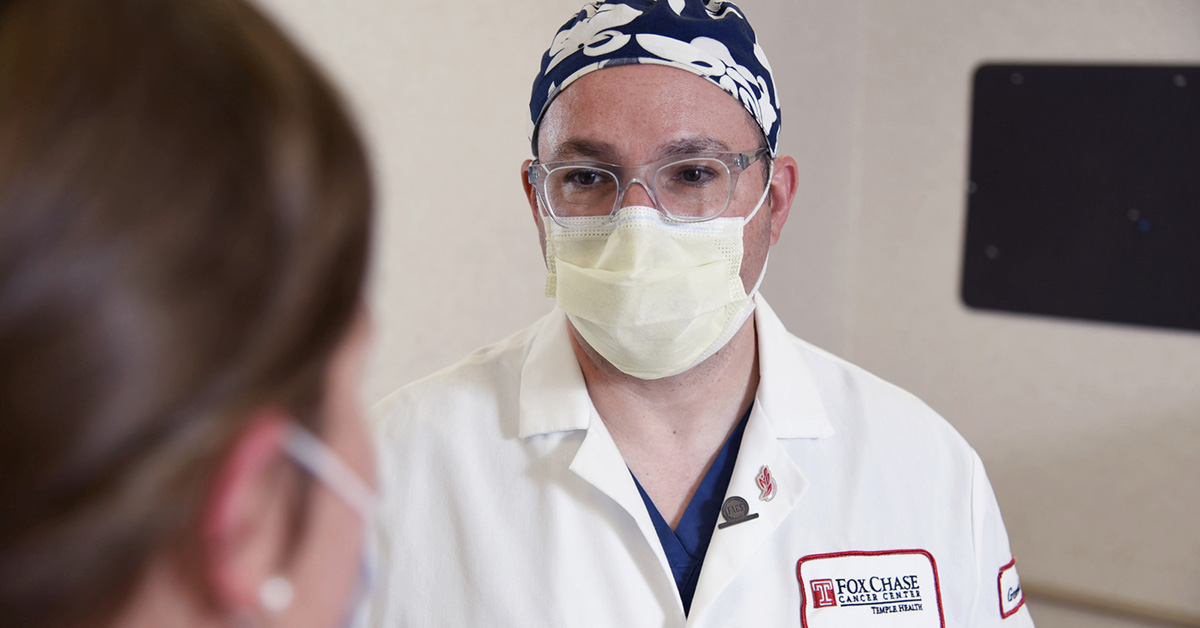 PHILADELPHIA (September 21, 2021)—Jeffrey M. Farma, MD, FACS, chief of the Division of General Surgery at Fox Chase Cancer Center, was appointed as the state chair of the American College of Surgeons Commission on Cancer (CoC) Cancer Liaison Program.
State chairs are volunteer physicians who serve as CoC representatives and provide leadership and support to the CoC-accredited programs and cancer liaison physicians in their state. Farma will serve as state chair for three years. As state chair, Farma is the main contact between the CoC and the local chapter of the American College of Surgeons.
"I'm looking forward to working with the American College of Surgeon's Commission on Cancer to improve screening, treatment, and standardization of cancer care in Pennsylvania," said Farma.
Farma is among a network of 64 state chairs who guide the activities of more than 1,500 volunteer cancer liaison physicians appointed in cancer programs across the country. Cancer liaison physicians are responsible for evaluating, interpreting, and reporting their facilities' performance data through the National Cancer Data Base (NCDB) and facilitating quality improvement initiatives based on data findings.
In addition, the cancer liaison physician is responsible for leading CoC initiatives within their cancer programs and collaborating with agencies such as the American Cancer Society (ACS) on behalf of the hospital. 
The CoC collects data from its accredited cancer programs and provides tools for these programs to facilitate analysis of patterns of diagnosis, treatment, and quality of care for patients treated at the hospital. The NCDB, a joint program of the CoC and the ACS, is a nationwide oncology outcomes database for commission-accredited cancer programs in the United States and Puerto Rico.
Some 70% of all newly diagnosed cases of cancer in the United States are captured at the institutional level and reported to the NCDB. The NCDB, begun in 1989, now contains approximately 34 million records from hospital cancer registries across the United States. Data on all types of cancer are tracked and analyzed. As part of their duties, state chairs work to facilitate the presentation, use, and interpretation of NCDB data at the state or regional level.
Farma will also work with the ACS, state cancer coalitions, and departments of health to support data-driven comprehensive cancer control planning throughout the state. This collaborative effort is an integrated and coordinated approach to reducing cancer incidence, morbidity, and mortality. 
In an effort to assist the more than 1.8 million Americans diagnosed with cancer each year, state chairs encourage cancer liaison physicians in CoC-accredited programs to share information on their facilities' resources, services, and annual cancer caseloads for public reporting.