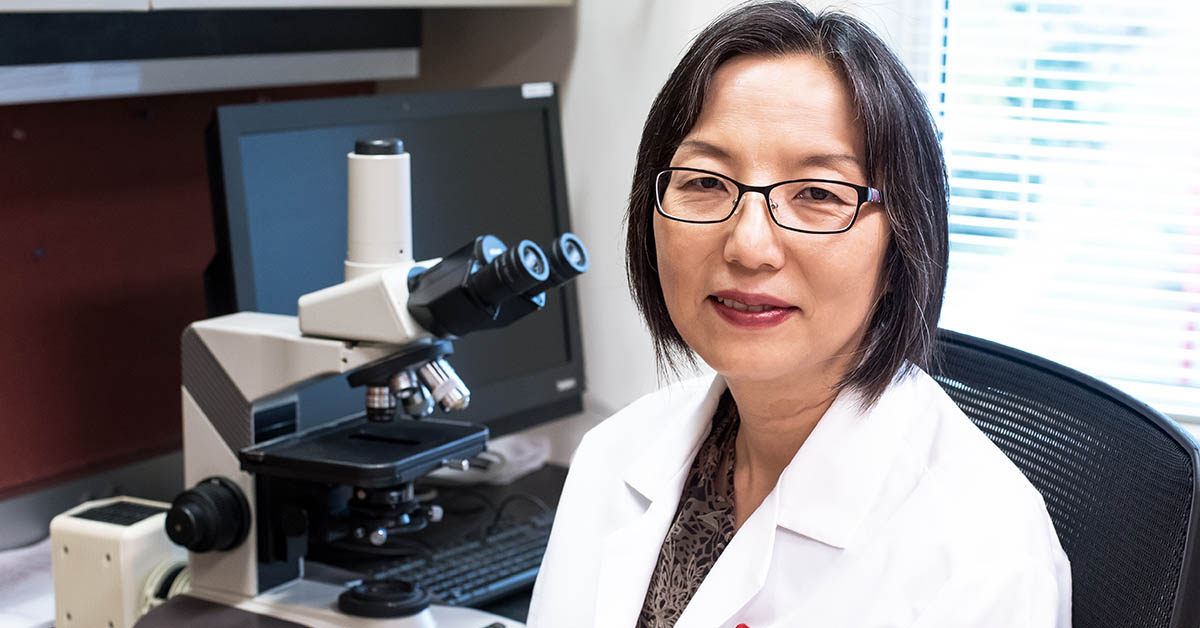 PHILADELPHIA (May 12, 2021)—In a recent study, researchers at Fox Chase Cancer Center showed that the combined use of the drugs venetoclax (Venclexta) and ibrutinib (Imbruvica) could help eradicate residual disease in patients with chronic lymphocytic leukemia (CLL).
CLL is a cancer of the blood, bone marrow, and lymph nodes that typically affects older adults. To observe how venetoclax and ibrutinib affect cancer cells, researchers created a model that mimicked the environment surrounding tumor cells in the lymph nodes, which is where these tumor cells proliferate.
"This way the tumor cells behave more like what they normally do. So this model is closer to what is happening in the human body," said Y. Lynn Wang, MD, PhD, FCAP, senior author on the study and a professor in the Department of Pathology and Blood Cell Development and Function Program at Fox Chase. Several other researchers at Fox Chase were co-authors on the study.
Wang said that by using this model, researchers were able to see two subpopulations of CLL cells—resting subpopulations and dividing subpopulations. In doing so, they observed venetoclax working on the resting cells and ibrutinib working on the dividing cells. 
The findings indicate that ibrutinib primarily targets nodal disease where CLL cells are proliferating and venetoclax targets circulating disease where CLL cells are resting. Wang said the study's findings explain clinical observations made by many treating physicians. 
According to Wang, ibrutinib targets Bruton tyrosine kinase (BTK), a molecule which plays a key role in B-cell receptor (BCR) signaling. BCR is an active pathway in CLL that continuously fires out of control as CLL cells survive and grow. Venetoclax targets another molecule called BCL2, a protein that prevents cells from dying.
"Initial response to ibrutinib is approximately 90%. It stops cells from proliferating and drives cells to blood, where they die slowly in the absence of the supporting lymph node environment. In the blood, venetoclax acts effectively to actively induce cell death in the resting tumor cells because it inhibits this anti-apoptotic protein, BCL2," said Wang. "This drug combination is very powerful and targets disease in major anatomical compartments—lymph nodes, blood, and bone marrow, so little residual disease is left."
According to the researchers, both ibrutinib and venetoclax are highly effective initially against CLL as individual therapies, but complete remission remains low and patients may relapse. Clinical trials combining these drugs have shown promising results such as undetectable residual disease and longer terms of remission.
"Currently, this combination has not yet been approved for CLL, but we do hope the Food and Drug Administration will approve it in this disease very soon," said Wang.
Additionally, Wang said their new model may prove useful in identifying new drug and drug combination therapies that could help eliminate residual disease from different anatomical compartments.
The study, "Ibrutinib and Venetoclax Target Distinct Subpopulations of CLL Cells: Implication for Residual Disease Eradication," was published in the Blood Cancer Journal.