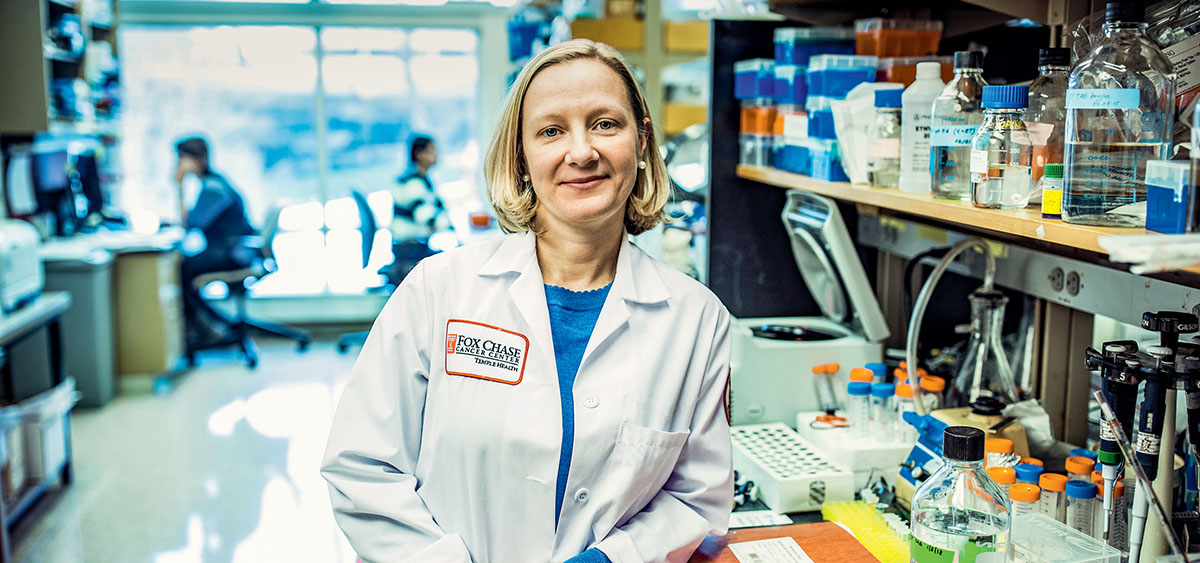 PHILADELPHIA (December 28, 2020)–Researchers at Fox Chase Cancer Center have identified a potential new target, a tyrosine kinase known as Wee1, for the treatment of gastrointestinal stromal tumor (GIST).
"Historically, all GIST were thought to be the same," said Lori Rink, PhD, assistant professor in the Molecular Therapeutics program at Fox Chase. "Now, we know that there are different subtypes of GIST, each with distinct differences in terms of clinical history and response to therapy. These include the more common KIT-mutant subtype and the less frequent PDGFRA-mutant subtype."
Imatinib was approved for the treatment of GIST nearly 20 years ago. However, patients with PDGFRA D842V-mutant disease do not respond to imatinib, Rink said. In January, the Food and Drug Administration approved avapritinib, also known by its brand name, Ayvakit, as a first-line therapy for patients with PDGFRA D842V-mutant disease.
"Previously these patients had no other therapeutic options. Avapritinib was shown to be quite effective in this GIST subtype," Rink said. "However, avapritinib is associated with some cognitive side effects and clinical resistance to the drug has already been reported."
Therefore, novel targets are needed to treat GIST that has stopped responding to treatment. To explore new targets, Shuai Ye, PhD, a postdoctoral fellow in Rink's laboratory, led the study, which looked at the kinome in GIST specimens from three common molecular subtypes: KIT-mutant, PDGFRA-mutant, and SDH-deficient GIST.
"Kinases are proteins that control important functions in the cell and can promote tumor cells to proliferate uncontrollably, leading to tumor formation," Rink said. "These are very actionable in terms of drug therapies." It was this kinome profiling study that identified an important role for Wee1, a cell cycle-related kinase, in GIST cell survival.
The results of the study showed that when used in combination with avapritinib in KIT- and PDGFRA-mutant GIST cell lines, MK-1775, a Wee1 inhibitor, demonstrated significant efficacy. In addition, MK-1775 had efficacy as a single agent in an engineered PDGFRA-mutant cell line.
"We found that this drug combination led to increased DNA damage and a loss of cell cycle regulation, decreasing time for DNA damage repair and ultimately causing increased GIST cell death," Rink said.
The combination treatment yielded promising results in a preclinical mouse model. "We observed disease stabilization and tumor regression, as well as a significant increase in overall survival in mice with PDGFRA-D842V-mutant GIST tumors treated with the combination," Rink said. "This work provides a strong rationale for the therapeutic targeting of Wee1 in GIST. The hope is that if we are able to combine these drugs clinically that we could give lower doses of avapritinib and bypass both the cognitive toxicities associated with the drug and the acquired resistance observed clinically."
The study, "Identification of Wee1 as Target in Combination With Avapritinib for Gastrointestinal Stromal Tumor Treatment," was posted online on JCI Insight.