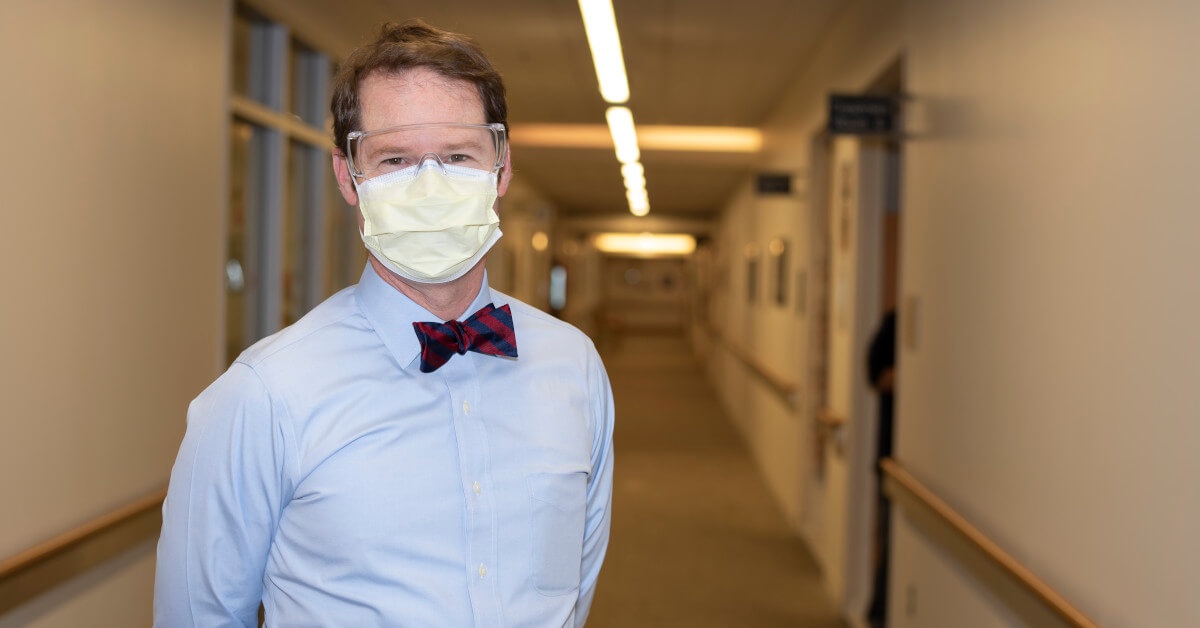 PHILADELPHIA (July 8, 2021) — Survivors of head and neck cancers might benefit from an interdisciplinary survivorship clinic that includes assessment and screening by rehabilitation specialists, according to Fox Chase Cancer Center researchers. That's because many of these survivors exhibit late dysfunction that is best identified by a rehabilitation specialist and may be amenable to treatment by that specialist.
Late dysfunction is a problem or problems that occur five years or more following cancer treatment. In head and neck cancer survivors, late dysfunction might include difficulty swallowing or limited neck range of motion.
"These are patients that will tell you, 'I'm doing great,' and then when you watch them swallow or move their shoulders and you see they're somewhat impaired," said Thomas J. Galloway, MD, chief of the Division of Head and Neck Radiation Oncology in the Department of Radiation Oncology. "The hope is this clinic can preemptively address these issues before they become clinically evident, which would be a really big advantage for head and neck cancer patients."
During the study's baseline year, patients visiting the Fox Chase head and neck cancer survivorship clinic were assessed by a single provider, a nurse practitioner who checked their general wellness. Although the provider did ask patients about symptoms of late dysfunction, only 3% of patients were referred to ancillary or support services.
In the study year, the head and neck survivorship clinic transitioned to an interdisciplinary model in which patients received the general wellness assessment along with an objective assessment by a speech pathologist and a screening by a physical therapist. Other providers, such as social workers, audiologists, and dietitians were also available as needed. That year, referrals for ancillary or support services jumped to 63%.
"When you have this diverse group of specialists looking at certain known dysfunctions, it made sense they were going to find more. The magnitude of how much more was unexpected from the clinician end," said Galloway, who helped direct patients to the survivorship clinic, as did other oncologists.
Of the patients referred, 47% attended the referred service. "Not only were we identifying dysfunction that was probably, to some extent, there previously, but also patients have good interest in attending those appointments for further workup," said Liane McCarroll, MS, CCC-SLP/L, senior speech pathologist.
McCarroll, who helped organize the clinic and served as the speech pathologist assessing patients for most of the study year, said it's clear the interdisciplinary model should be incorporated into head and neck cancer survivorship clinics going forward.
But, she added, there are more questions to answer about the progression of late dysfunction in head and neck cancer survivors and the ideal frequency for specialist assessments. "We would need years of a clinic model like this and collecting those data points to answer these questions," McCarroll said.
The researchers were unable to track the survivorship clinic patients who attended their referrals because the COVID-19 pandemic interrupted the study's second year.
The study, "Identification and Management of Late Dysfunction in Survivors of Head and Neck Cancer: Implementation and Outcomes of an Interdisciplinary Quality of Life (IQOL) Clinic," was published in the journal Head & Neck.