As with many major events scheduled within this challenging time of escalating concerns around COVID 19, Get Your Rear in Gear Philadelphia has postponed the 12th annual colon cancer awareness event from Sunday, March 22, 2020, to Sunday, July 19, 2020, at 7 am.  This move was made in collaboration with our expert medical partners to help ensure the safety and well-being of our participants.  It is a strategic choice to preserve the event and move it to the first available date on the calendar of the City of Philadelphia. 
PHILADELPHIA (February 27, 2020) – Fox Chase Cancer Center will be showing support for the fight against colon cancer by participating in the Colon Cancer Coalition's annual Get Your Rear in Gear colon cancer run/walk in Philadelphia on Sunday, March 22.
Patients, survivors, and their families will join faculty, staff, and volunteers as members of the Fox Chase team. The team is led by this year by Fox Chase surgeon Jeffrey Farma, MD, FACS, chief of the Division of General Surgery at Fox Chase.
"I always enjoy the energy and enthusiasm of this event, especially the efforts of so many people to raise funds to fight colon cancer," said Farma. "I am thrilled to lead our team and increase awareness of this important event."
The Colon Cancer Coalition hosts the run/walk annually to raise funds and awareness for colon cancer. Funds raised from the event will support local efforts, including prevention, early detection, and treatment for the disease. Get Your Rear in Gear – Philadelphia is one of 35 run/walk events the Coalition is hosting across the country in 2020.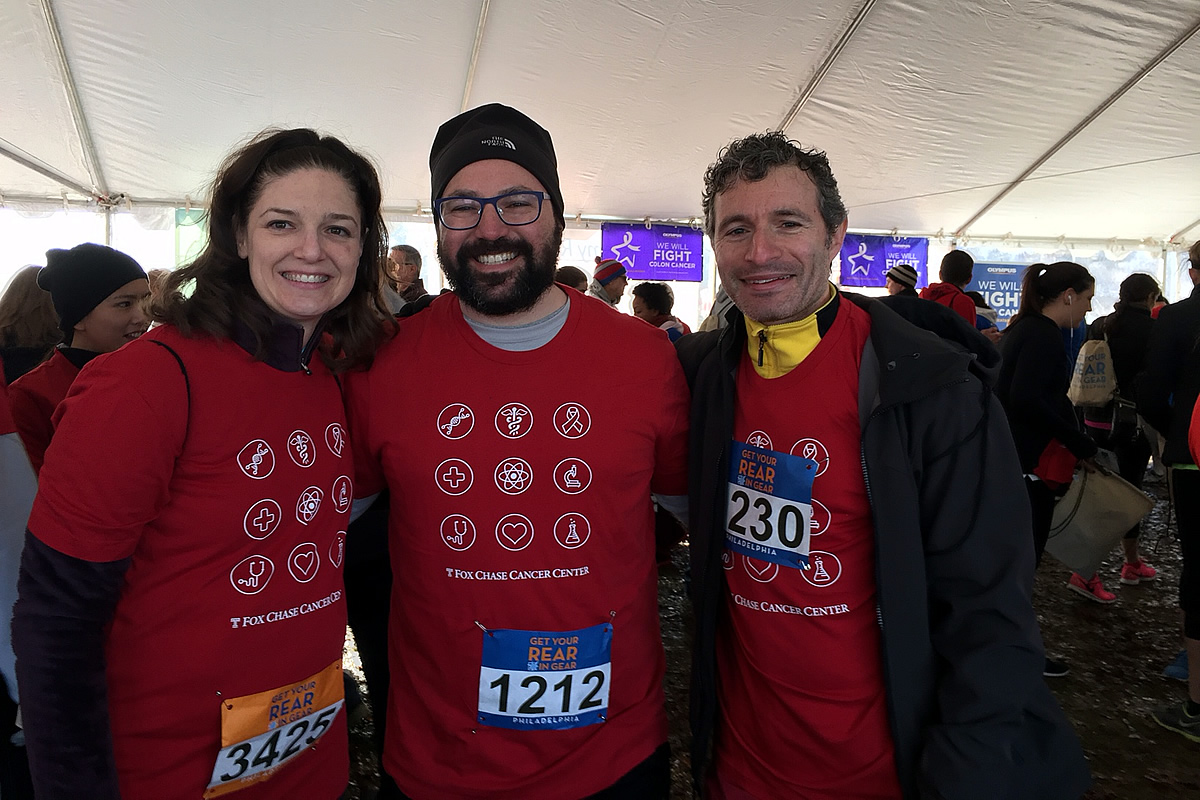 The family friendly run/walk will begin at Memorial Hall/Please Touch Museum, 4231 Avenue of the Republic, Philadelphia. Registration will be from 7:30 a.m. to 8:30 a.m., with the Kids' Fun Run beginning at 8:45 a.m. and the 5K run/walk beginning at 9:15 a.m.
Registration is open until midnight on March 15. Adults can register for the race for $35 and children under 12 can be registered for $15. On race day, registration prices increase to $40 for adults and $20 for children. Children can also be registered for the fun run for $20. Colorectal cancer survivors register for free.
For more information on upcoming Get Your Rear in Gear events, go to the Colon Cancer Coalition's Get Your Rear in Gear – Philadelphia page. To donate, click here.