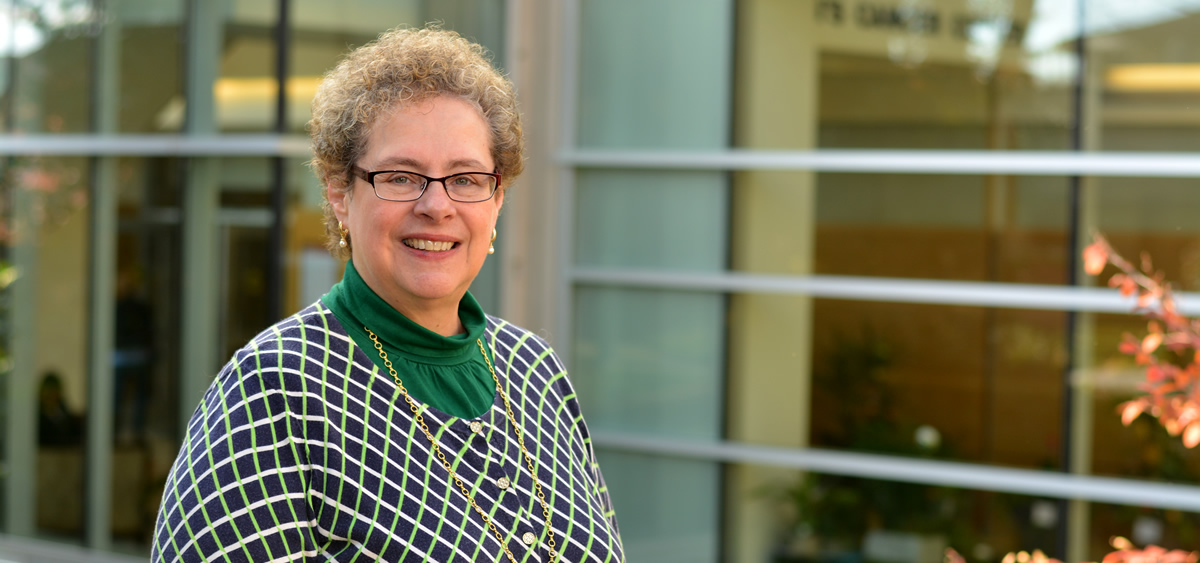 PHILADELPHIA (February 27, 2020) – Eileen K. Jaffe, PhD, a professor in the Molecular Therapeutics program at Fox Chase Cancer Center, was recently tapped to help write the book on oligomerization, the production of an oligomer—a molecular complex—from a number of monomers assembling together.
Her chapter, "Porphobilinogen Synthase: An Equilibrium of Different Assemblies in Human Health," was recently published in the book "Oligomerization in Health and Disease: From Enzymes to G Protein-Couple Receptors," which is Volume 169 of the Elsevier series Progress in Molecular Biology and Translational Science. The chapter is a compilation of more than a decade of work in understanding protein behavior.
"One concept many people are familiar with is the concept of one sequence, one structure, one function," Jaffe said. "That was the basis for all bioinformatics for decades." Her work, however, has shown that this traditional view of proteins is insufficient.
Instead, Jaffe long ago discovered that proteins can "shape shift" in an unexpected way when she documented the behavior of a metabolic enzyme, porphobilinogen synthase (PBGS).
PBGS is a protein responsible for the first evolutionary conserved step in the biosynthesis of molecules like heme, which carries oxygen to human cells, or chlorophyll in plants. The protein's unexpected behavior centered upon a dynamic interconversion between different assemblies that were functionally and architecturally distinct.
"Notably, one assembly is shown to come apart into identical units. The units then must change shape, and this new shape comes together as a different assembly," Jaffe said. "I realized that if this behavior was common, it could have profound consequences for understanding the structural basis of disease and the action of drugs."
Until recently, the existence of these proteins, known as morpheeins, was met with skepticism, Jaffe said, because it went against the established idea of one sequence, one structure, one function. In fact, the behavior may be more common than anticipated, but may frequently go unnoticed because of common assumptions about protein behavior.
In the newly published chapter, Jaffe described how she established that these different assemblies can control the function of the protein, how they relate to human disease, and how they could be regulated by drugs.
For example, a drug could be used to keep a protein in a certain assembled form. In the example of PBGS, this could be either the "on" or the "off" form of the protein.
"If you could add a drug that would preferentially keep a protein turned 'on' you could have an effective drug if your disease was a deficiency in the activity of that protein," Jaffe said. "That is the situation with the metabolism disorder phenylketonuria, which we are currently working on."
Slowly, Jaffe's work on morpheeins, which have been called the fifth levels of protein structure, is being duplicated and expanded upon by other labs that have found other homomeric protein assemblies that can reassemble into a new structure with a new function. A few examples include Ebola virus VP40, ribonucleotide reductase, retroviral integrase, and pyruvate kinase.
"This reversible interchange of such assemblies provides a powerful framework for understanding disease and designing therapeutics," Jaffe said.