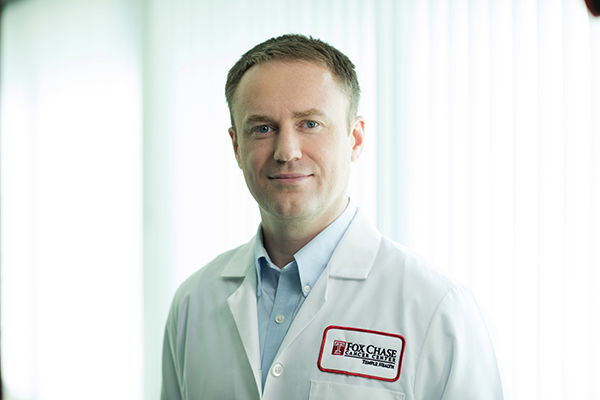 PHILADELPHIA (December 11, 2019) – New research indicates that BRCA1 gene rearrangements are responsible for generating partially active proteins that drive the development of resistance to PARP inhibitors.
Individuals with BRCA1 mutations are at significantly increased risk for developing breast and ovarian cancers. Women who developBRCA-mutated cancer may benefit from treatment with PARP inhibitors, drugs which block an enzyme involved in certain cell functions, including the repair of DNA damage.
"PARP inhibitors have been shown to be very effective at prolonging disease-free survival in BRCA-mutated ovarian cancer, but eventually the majority of patients will develop drug resistance," said Neil Johnson, PhD, associate professor of the Molecular Therapeutics program at Fox Chase Cancer Center.
Johnson and colleagues have been working to gain a better understanding of why resistance occurs. Uncovering the underlying biology of drug resistance may enable the development of treatment strategies that prevent resistance from occurring altogether.
Specifically, Johnson's lab is focused on how different types of BRCA1 mutations might develop resistance. "We found that a group of BRCA1 mutations in the BRCT domain have a particular mechanism that involves rearrangement of the BRCA1 gene," Johnson said. "The consequence of having a mutation in this domain is that it causes the whole protein to become degraded."
Johnson and the study's first author, Yifan Wang, PhD, a postdoctoral fellow, found that when cells become resistant to PARP inhibitors, the BRCA1 gene develops inversions or translocations, meaning the gene changes the way it is arranged in the chromosome. That leaves behind the BRCT domain mutations that are causing the whole protein to get degraded.
"Now, it does not get degraded. It is stable and it can contribute to the repair of DNA damage," Johnson said. "Because it repairs DNA damage, it also promotes resistance to the PARP inhibitors."
In the future, it is possible that detection of these types of rearrangements could serve as a biomarker for identifying which patients are most likely to benefit from PARP inhibitors.
"It could potentially serve as a way to have personalized therapy, tailoring treatment to be the most effective for each patient," Johnson said.
The paper, "BRCA1 Intronic Alu Elements Drive Gene Rearrangements and PARP Inhibitor Resistance," was published in Nature Communications.
The research was supported by National Institutes of Health grants P50 CA083638, 5P30 CA006927, and R01CA214799; Susan G. Komen CCRCR17499048; Department of Defense OC130212; a Pilot Award; and a Nested Teal Postdoctoral Scholar.