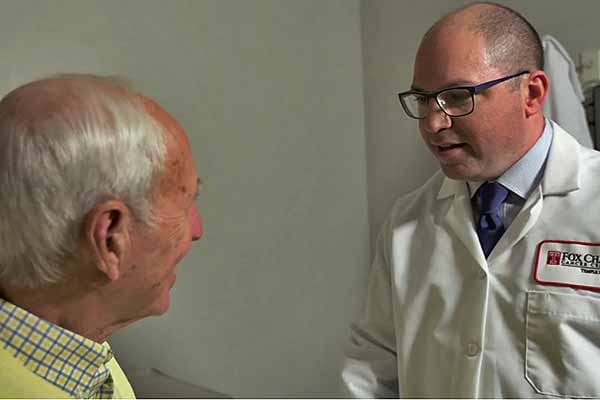 PHILADELPHIA (October 3, 2019) – Researchers from Fox Chase Cancer Center and Temple University Hospital conducted a study that sheds new light on the biology of retroperitoneal sarcomas and how they should be surgically removed.
Retroperitoneal sarcomas are a rare subtype of a rare type of cancer, said Jeffrey M. Farma, MD, FACS, Chief of the Division of General Surgery at Fox Chase. These tumors are found in the retroperitoneal compartment, a large space at the back of the abdominal cavity.
"Because of where they are located, these tumors can grow to be very large, like the size of a cantaloupe or a basketball, and begin to push other organs out of the way," Farma said.
Surgical removal is a cornerstone of treatment for retroperitoneal sarcoma. In this study, Farma and colleagues wanted to see if the tumor's laterality, or which side of the abdominal cavity it is located, was associated with tumor characteristics or outcomes.
"We wanted to look at a series of patients to get an understanding of whether location on one side or another – left or right – changes outcomes or what is required for resection during surgery," Farma said.
They looked at data from 106 patients with retroperitoneal sarcoma treated at Fox Chase between 2000 and 2005. Tumors that were classified as right-sided were more likely to be fatty tumors, called liposarcomas. Tumors that were located on the midline were significantly more likely to be another subgroup called leiomyosarcomas. Tumor location was not associated with tumor stage or grade.
"A lot of times when we go in to remove these tumors, we also have to remove other organs affected by the tumor," Farma said. "In our study, we found that in right-sided tumors we were more likely to remove the kidney, which is located on the right side of the body. For left-sided tumors, we were more likely to have to remove the spleen and pancreas, which are located on the left side of the body."
However, no associations between location of the tumor and risk for death or tumor recurrence were found. These data do not change how patients with retroperitoneal sarcomas would be treated, Farma said, but do provide clinicians with a better understanding of the disease.
"For individuals with these rare tumors, where they start their treatment really does matter, because if you have surgery that is inappropriate or with a surgeon with less experience with these tumors, the chance of recurrence is much higher," Farma said. "It is so important for people to be treated at a facility like Fox Chase, where there is a multidisciplinary sarcoma team that has expertise in treating these rare tumors."
The paper, which was published in the Journal of Surgical Research, was titled "Retroperitoneal Sarcomas: Does Laterality Matter?"