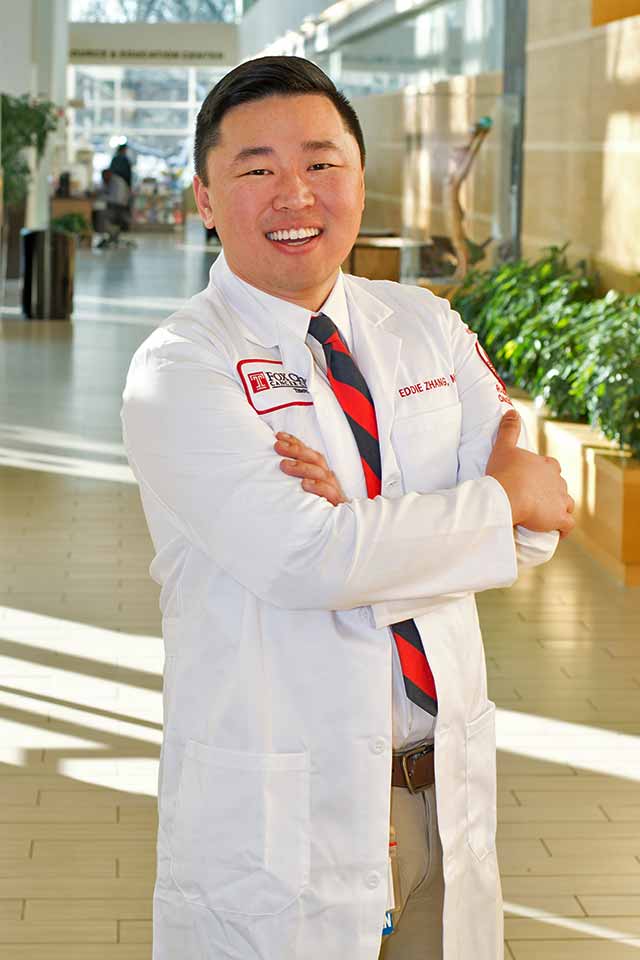 CHICAGO (September 15, 2019) – Patients with esophageal cancer who experienced severe lymphopenia after undergoing chemoradiation were more likely to have their disease recur and were at greater risk for death, according to a new study from researchers at Fox Chase Cancer Center.
In addition, the dose of radiation administered to the heart, spine, aorta, and whole body predicted for likelihood of severe lymphopenia, a condition where the blood is lacking in one of the forms of white blood cells, lymphocytes.
"The common treatment paradigm for esophageal cancer includes chemotherapy and radiation prior to esophagectomy, and patients who undergo chemoradiation are known to have increased risk for lymphopenia," said Eddie Zhang, MD, a resident in radiation oncology at Fox Chase. "We wanted to investigate the relationship between severe lymphopenia and poor survival, and if they were linked, potentially alter treatment regimens."
Zhang will present the results of his research at a poster session today at the 61st Annual Meeting of the American Society for Radiation Oncology (ASTRO).
The study included 189 patients with Stage 2 to 3 esophageal cancer treated with combined chemotherapy and radiation. About half the patients who underwent chemoradiation experienced severe lymphopenia.
Patients who had severe lymphopenia had disease recurrence a median of 1.8 years after treatment compared with a median of 4 years in patients without severe lymphopenia. Similarly, among patients with severe lymphopenia, the median time until death was 2.4 years compared with 4 years among patients without lymphopenia.
Zhang and his colleagues then looked at the radiation dose received in several organs among 119 of the patients. "There are various goals to achieve when planning a radiation treatment," Zhang said. "The ideal plan is one where you can cover the target while at the same time minimizing the radiation dose to organs at risk."
In their analysis, Zhang and colleagues found that radiation dose exceeding dose-volume histogram cutoff points for the heart, spine, aorta, and whole body predicted severe lymphopenia.
"There has been an increasing recognition of the role of white blood cells in antitumor response, especially in the era of immunotherapy," Zhang said. "We want to look further into some of the potential ways that we can prevent lymphopenia as a complication of the chemoradiation treatment that we deliver."