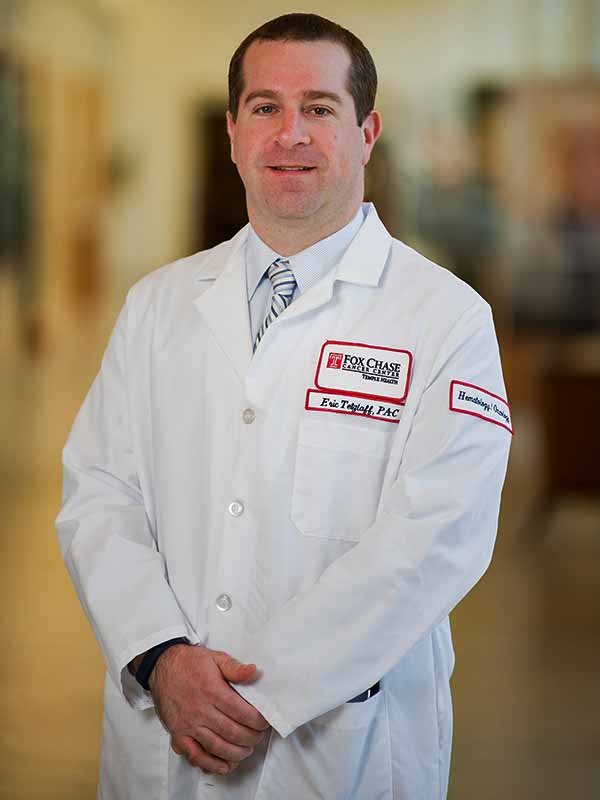 PHILADELPHIA (September 4, 2019) – Eric D. Tetzlaff, MHS, PA-C, a physician assistant at Fox Chase Cancer Center, has received a $15,000 three-year grant from The Association of Physician Assistants in Oncology to explore the role and impact of burnout among physician assistants working in oncology.
"This research will expand the understanding of burnout among oncology PAs and provide a foundation for the potential future development of effective interventions," said Tetzlaff, who is in the Department of Hematology/Oncology.
The increased use of physician assistants (PAs) in oncology has been proposed as a solution to meeting an expected shortfall of oncologists. As the number of PAs in oncology increases, however, it will be important to understand characteristics of the PA workforce and its ability to meet this expected demand.
Previous research by Tetzlaff and his colleagues found a high rate of burnout among PAs in oncology. The researchers found burnout present in 34.8 percent of oncology PAs, with 30.4 percent reporting high emotional exhaustion, 17.6 percent reporting high depersonalization, and 19.6 percent reporting a low sense of personal accomplishment. Nonetheless, career and specialty satisfaction were high (86.4 percent and 88.8 percent, respectively).
Besides having adverse personal and professional effects for individual PAs, burnout may significantly impact the potential oncology workforce. Should burnout result in oncology PAs decreasing their work hours, pursuing early retirement, or changing fields or areas of specialization, that could further exacerbate the expected shortage in the oncology workforce.
A longitudinal study will be conducted to understand the impact of the attitudes of oncology PAs regarding teamwork, expectations for their professional role, type of collaborative practice, organizational context of the job environment, and moral distress, on burnout and career satisfaction.