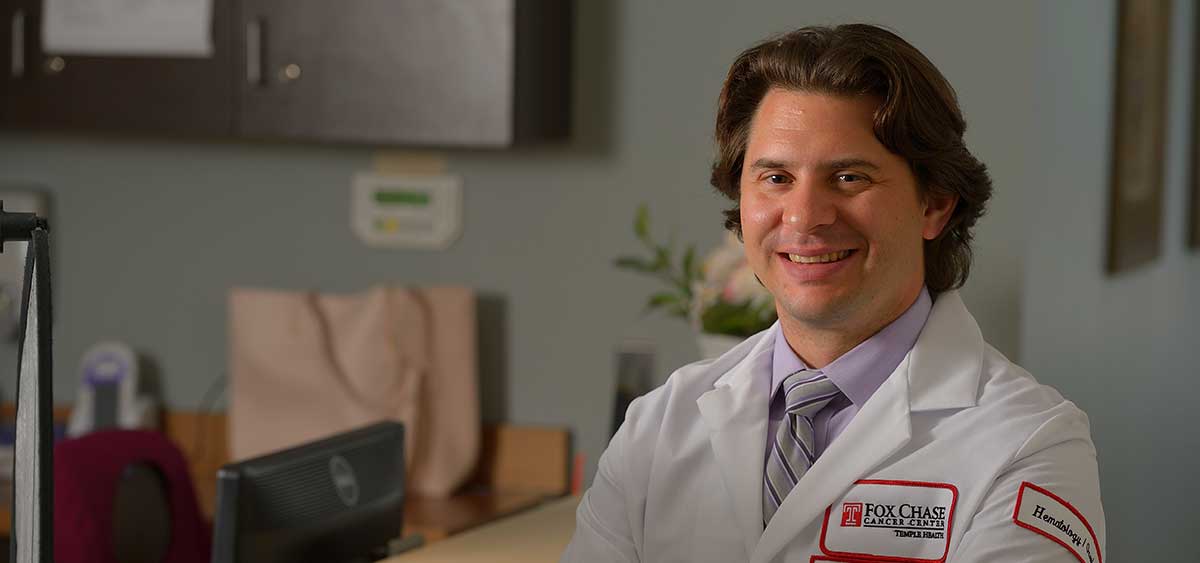 PHILADELPHIA (May 23, 2019) — A new combination of established kidney cancer drugs has demonstrated safety and encouraging efficacy in patients with metastatic renal cell carcinoma (mRCC),  according to a new clinical trial. Matthew Zibelman, MD, assistant professor in the Department of Hematology/Oncology at Fox Chase Cancer Center, leads the multi-center trial of the combination of Axitinib and the PD-1 inhibitor Nivolumab. He will present the safety and early efficacy data for the phase I cohort as part of the ASCO 2019 annual meeting.
Axitinib is an oral targeted agent and Nivolumab is an immunotherapy drug that is administered intravenously during a brief weekly infusion. Axitinib targets vascular endothelial growth factor (VEGF) and the immunotherapy targets the programmed death one (PD-1) pathway. Both drugs are FDA-approved for mRCC on their own.
Phase I testing showed the combination is safe for mRCC patients, and the trial has now shifted into phase II, testing efficacy in a wider range of patients. In addition to Fox Chase, this trial is open for patients at Weill-Cornell Medical Center and Johns Hopkins University Hospital.
"This ongoing trial seeks to expand options for kidney cancer patients by combining two drugs that are well established for mRCC," Zibelman said. 
There will be an estimated 73,820 new kidney cancer diagnoses in the United States this year, accounting for 4.2 percent of all cancers. Renal cell carcinoma is the most commonly diagnosed form of kidney cancer.