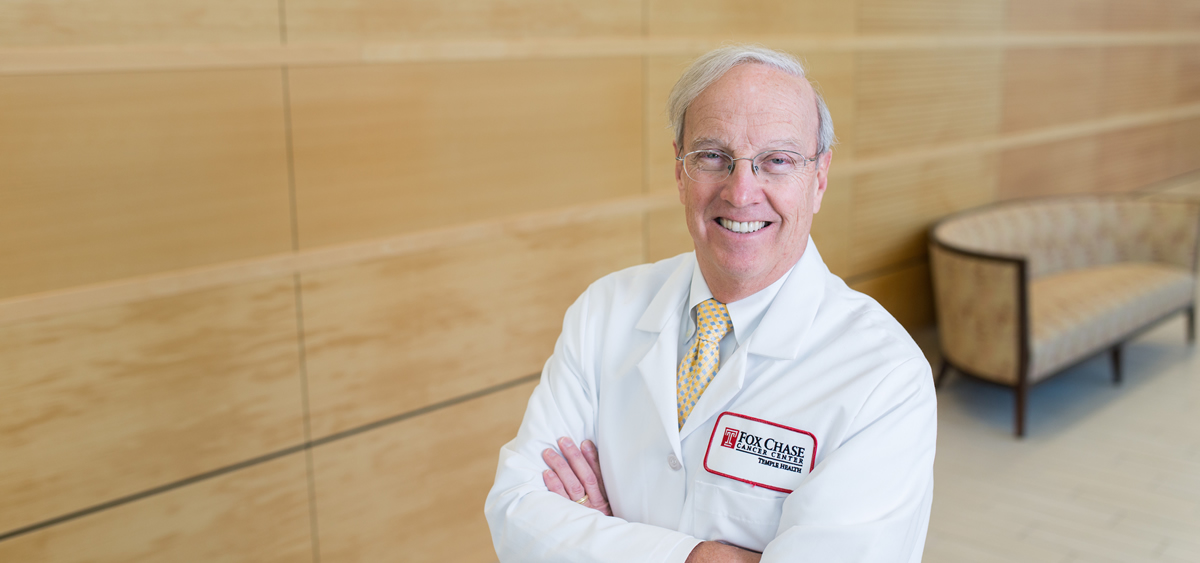 PHILADELPHIA (October 23, 2018) – John Michael Daly, MD, FACS, a surgical oncologist at Fox Chase Cancer Center, is among a group of 91 esteemed surgeons from seven countries selected to the new American College of Surgeons (ACS) Academy of Master Surgeon Educators™. The Academy's first induction ceremony occurred on October 3 at the John B. Murphy Memorial auditorium in Chicago.  
Daly is currently an attending surgeon in the Department of Surgery at Fox Chase, as well as the Harry C. Donahoo Professor of Surgery and Dean Emeritus at the Lewis Katz School of Medicine at Temple University. He is a distinguished surgical educator who specializes in treating women and men with breast cancer. 
In addition to this honor, Daly was listed among Philadelphia Magazine's 2018 Top Doctors, America's Top Doctors® 2016-17, and received the 2009 Diamond Award from Temple University Health System, and the 2008 Clarence E Schaffrey Award from St Joseph's University.
Developed under the auspices of the ACS Division of Education, the Academy recognizes surgeon educators who have devoted their careers to surgical education. Individuals are selected as Members or Associate Members following stringent peer review. The Academy's mission is to play a leadership role in advancing the science and practice of education across all surgical specialties, promoting the highest achievements in the lifetimes of surgeons. Academy membership carries an obligation for commitment to the Academy's goals, which are to identify, recognize, and recruit innovators and thought leaders committed to advancing lifelong surgical education; translate innovation into actions; offer mentorship to surgeon educators; foster exchange of creative ideas; disseminate advances in surgical education; and positively impact the quality of surgical care and patient safety. 
In addition to supporting the mission and goals of the Academy, members must actively participate in Academy programs and activities. "Moving forward, we plan to pursue the Academy's goals with great enthusiasm," said Ajit K. Sachdeva, MD, FACS, FRCSC, FSACME, Director of the ACS Division of Education and co-chair of the Steering Committee of the Academy. "To start, small groups of Members and Associate Members will be assembled to work on addressing these goals. We also plan to publish an annual publication, Proceedings of the American College of Surgeons Academy of Master Surgeon Educators that will be launched in late 2019."  
"With highest quality patient care through education being the paramount theme of the American College of Surgeons, the establishment of the Academy of Master Surgeon Educators is an important new chapter for the ACS, the world's largest organization for surgeons," explained L.D. Britt, MD, MPH, DSc(Hon), FACS, FCCM, FRCSEng(Hon), FRCSEd(Hon), FWACS(Hon), FRCSI(Hon), FCS(SA)(Hon), FRCS(Glasg)(Hon), past president of the ACS, and co-chair of the Steering Committee of the Academy.
"This is an important time in medicine for such an accomplished and innovative group of surgeon educators to come together.  Underscoring the critical importance of surgical education in a changing health care environment will be one major focus for the work of the Academy," said ACS Executive Director David B. Hoyt, MD, FACS. "We congratulate and welcome all members and associate members of the inaugural class."
Academy membership is conferred in two categories, Member and Associate Member. For a listing of all surgeons honored with selection into the Academy visit:  https://www.facs.org/education/academy/2018selection