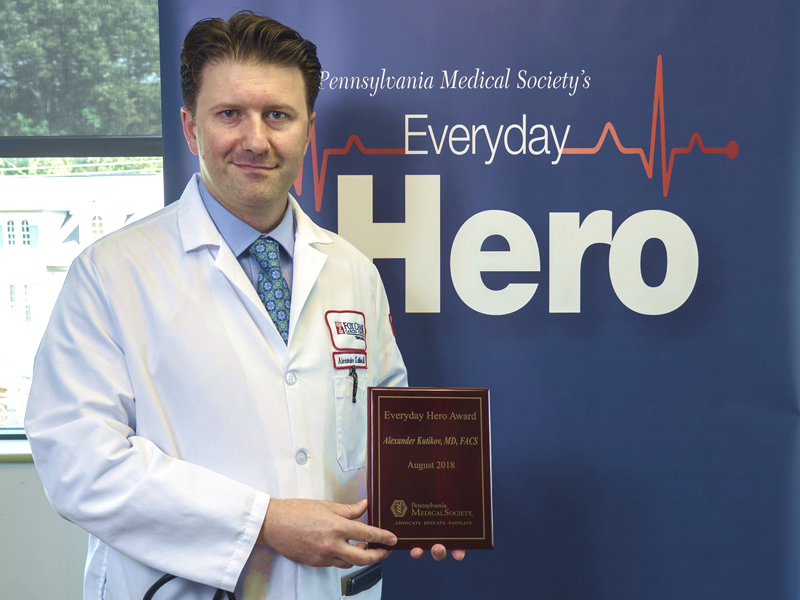 PHILADELPHIA (August 23, 2018) – Alexander Kutikov, MD, FACS, chief, Division of Urology and Urologic Oncology at Fox Chase Cancer Center, has been named August's Everyday Hero by the Pennsylvania Medical Society (PAMED).
PAMED's Everyday Hero Award is designed to showcase talented physicians who probably don't view themselves as heroes, but to patients and colleagues they are. The award is a monthly member honor.
Kutikov was nominated for PAMED's Everyday Hero Award by one of his patients, Gerard Margiotti, MD.
Dr. Margiotti described Dr. Kutikov as "among the best technically proficient surgeons in his field." But the personal bonds Dr. Kutikov forms with his patients help set him apart as much as his technical expertise, according to Dr. Margiotti.
"Alex actually called me from his cell phone while at Disney with his family when I was diagnosed with cancer," Dr. Margiotti said. "He's truly a role model for anyone considering medicine."
Theodore Christopher, MD, president of the Pennsylvania Medical Society, said: "Building a patient-doctor relationship is such a key part of being an excellent physician. It speaks volumes that Dr. Kutikov was nominated for this award by one of his patients. PAMED thanks Dr. Kutikov for his efforts and is honored to present this award to him."
Kutikov joined the Department of Surgical Oncology at Fox Chase in 2010 after completing a Society of Urologic Oncology Fellowship at Fox Chase. He earned his medical degree at Harvard Medical School and completed his residency in urology at the University of Pennsylvania.
Dr. Kutikov was formally presented the Everyday Hero Award by PAMED at 12:40 p.m. Aug. 28. A brief ceremony was also held at Fox Chase Cancer Center – Huntingdon Pike located at 8 Huntingdon Pike, 3rd Floor Urology Suite, Rockledge, PA 19046.
Patients and medical colleagues can nominate PAMED member physicians for this monthly award at www.pamedsoc.org/awards.
***
About Pennsylvania Medical Society
The Pennsylvania Medical Society helps its 20,000 physician and medical student members return to the art of medicine through advocacy and education. To learn more, visit www.pamedsoc.org or follow us on Twitter at @PAMEDSociety.