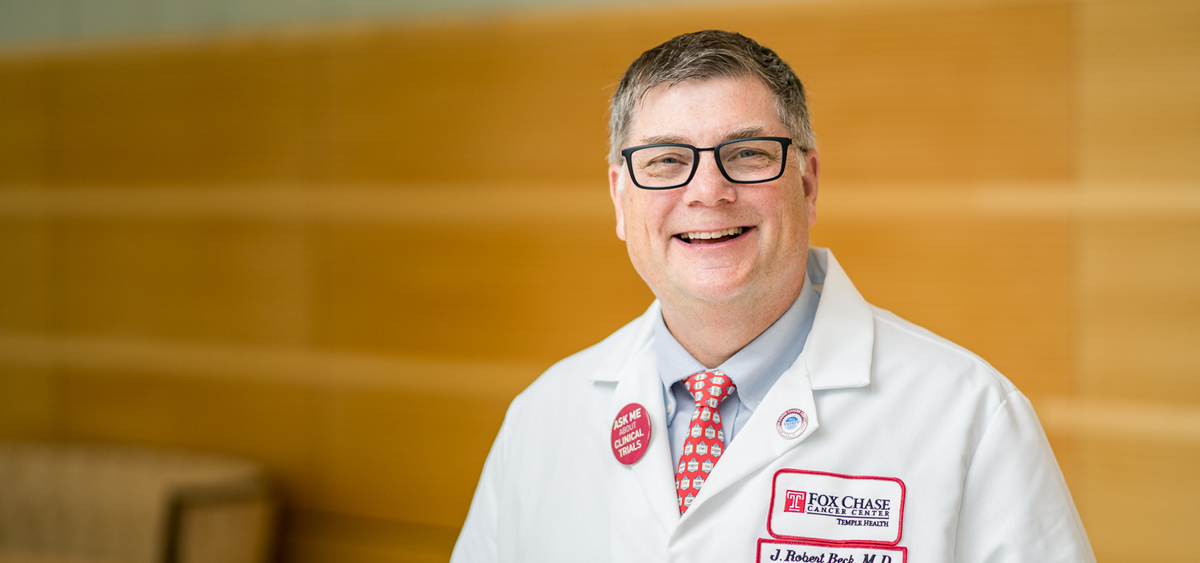 PHILADELPHIA (September 17, 2018)— On September 20, 2018, J. Robert Beck, MD, Senior Vice President and Deputy Cancer Center Director at Fox Chase Cancer Center, will receive the West Oak Lane Charter School Community Champion Award. West Oak Lane Charter School (WOLCS) is one of the oldest charter schools in Pennsylvania.
This award will be presented at the school's 20th Anniversary Celebration and Awards Reception hosted by Chestnut Hill College. This award is in recognition of Dr. Beck's support of WOLCS's STEM program. Fox Chase and WOLCS have had an academic partnership for several years.
"Introducing students to STEM and getting them interested in these programs at a young age is crucial to helping build the field," Beck said. "West Oak Lane Charter School has worked tirelessly for the last 20 years to educate students in the areas of science, technology, and the humanities. I am honored to have worked with them over the years and to receive this award from them."
For 20 years, WOLCS has educated and empowered students from all corners of Philadelphia to become lifelong learners in the areas of science, technology and humanities. Students are exposed to innovative ways of teaching and learning, while being prepared for the challenges of the 21st century in a safe, structured and nurturing environment.
"Through our targeted academic curriculum and enrichment programs, West Oak Lane Charter School maintains a singular commitment to closing the achievement gap for our students," said Debbera Peoples-Lee, CEO of West Oak Lane. "Our accomplishments would not be possible without the support of people like Dr. Beck and institutions like Fox Chase."
Beck received his medical degree from Johns Hopkins University in 1978, where he began developing his interests in health services research and health informatics. In 2001, Beck joined Fox Chase as vice president and chief information officer. He has served in several roles at Fox Chase, becoming deputy director of the Division of Population Sciences in 2006, senior vice president and chief academic officer in 2007, chief medical officer in 2009, and deputy director of the Center in 2013.
Currently he serves as senior vice president, deputy director of the center, and Special Assistant to the President for Academic and Professional Affairs. He also holds the H.O. West and J.R. Wike Chair in Cancer Research.