Recently the Fox Chase Board of Associates (BOA) hosted its Annual Donation Meeting, where each chapter presented a check for the amount they'd raised this fiscal year and provided an overview of their work throughout the year. The total gift to the Center was $711,217.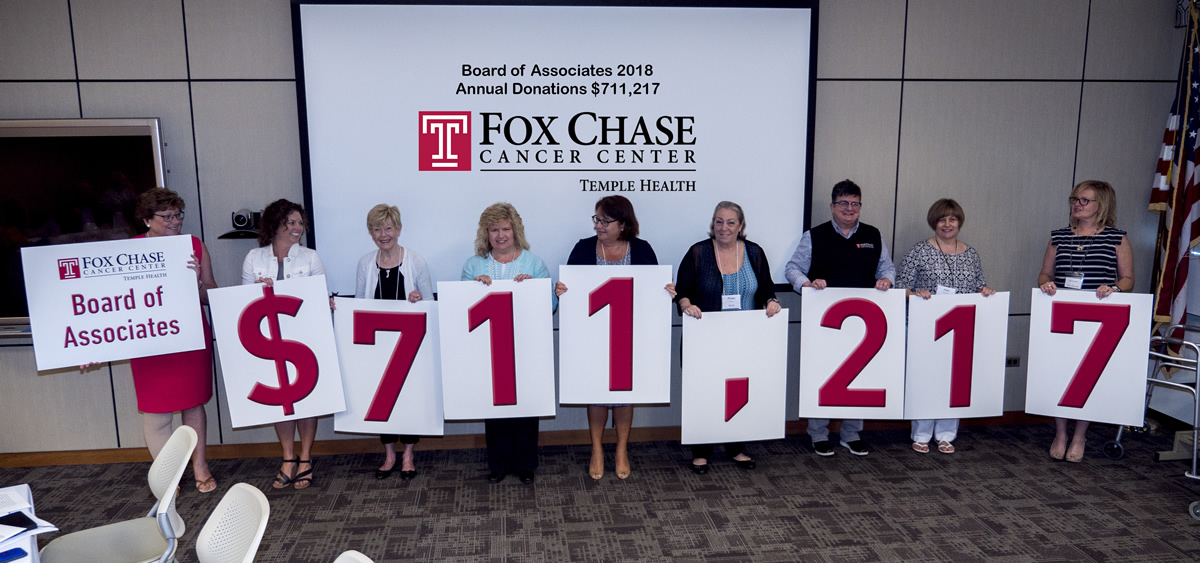 The BOA is a group of dedicated volunteers who fundraise year-round through projects and special events in support of research and patient care at Fox Chase. There are five member organizations and three affiliates, harnessing the passion, creativity, and generosity of more than 500 volunteers who have raised more than $22 million in support of Fox Chase since 1965.
Each chapter supports Fox Chase in a unique way. The Bucks County and Main Line chapters, for example, both focus their fundraising efforts on research, while the Friends of the Hospital of Fox Chase Cancer Center chapter support patient care and nursing scholarships and Dan's Voice attracts members who advocate specifically for head and neck cancer research. Chapters host a variety of fundraising events and activities geared toward all levels of giving. There are high level giving opportunities, such as galas and auctions, as well as mid-range events like baseball games and runs and walks. The entire BOA hosts two annual signature events – Paws for the Cause and Night in Monte Carlo – harnessing the talents of all the volunteers to raise important funds to support the postdoctoral program and cancer research.
"The generosity of our philanthropic partners directly impacts the success of the Center," said Sarah H. Weidenauer, associate director of the Board of Associates at Fox Chase. "We are grateful for all that this partnership makes possible."
Interested volunteers are invited to join the Board of Associates as a general member or within one of the member organizations.