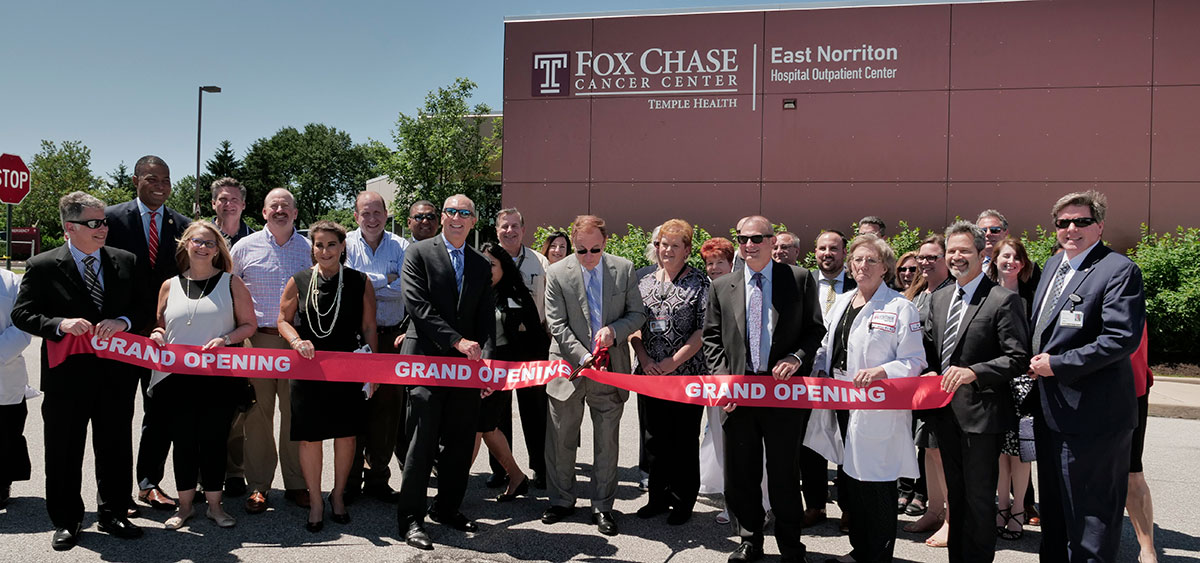 PHILADELPHIA (June 12, 2018) — Fox Chase Cancer Center will celebrate the opening of its new outpatient oncology facility in East Norriton, Pennsylvania with a ribbon cutting ceremony and reception on June 15.
Fox Chase Cancer Center East Norriton – Hospital Outpatient Center began operations on May 8 in Montgomery County. This dedicated cancer center, which is located on the campus of Suburban Community Hospital at 2701 Dekalb Pike, offers patients a broad range of cancer care services in Philadelphia's densely populated western suburbs.
Fox Chase East Norriton offers radiation oncology and medical oncology services for a variety of cancer types, as well as surgical consultations for breast cancer patients. The new center also offers access to nurse navigators who make sure patients are seen by the appropriate cancer care specialists. Over the next few months, the center will offer additional services, including surgical consultations for other cancers, clinical genetics services, and access to support services.
The East Norriton location expands Fox Chase's capabilities with two full floors of recently constructed space, including a linear accelerator for radiation treatments, flexible clinic space with seven exam rooms, an infusion center with seven infusion chairs, and a peaceful garden where patients and caregivers can relax.
"The opening of this new Fox Chase facility represents important growth not only for our institution but for the state of high-caliber cancer care in the Greater Philadelphia region," said Richard I. Fisher, MD, president and CEO of Fox Chase Cancer Center.
Learn more about Fox Chase East Norriton and the services it will offer to patients in Montgomery County.