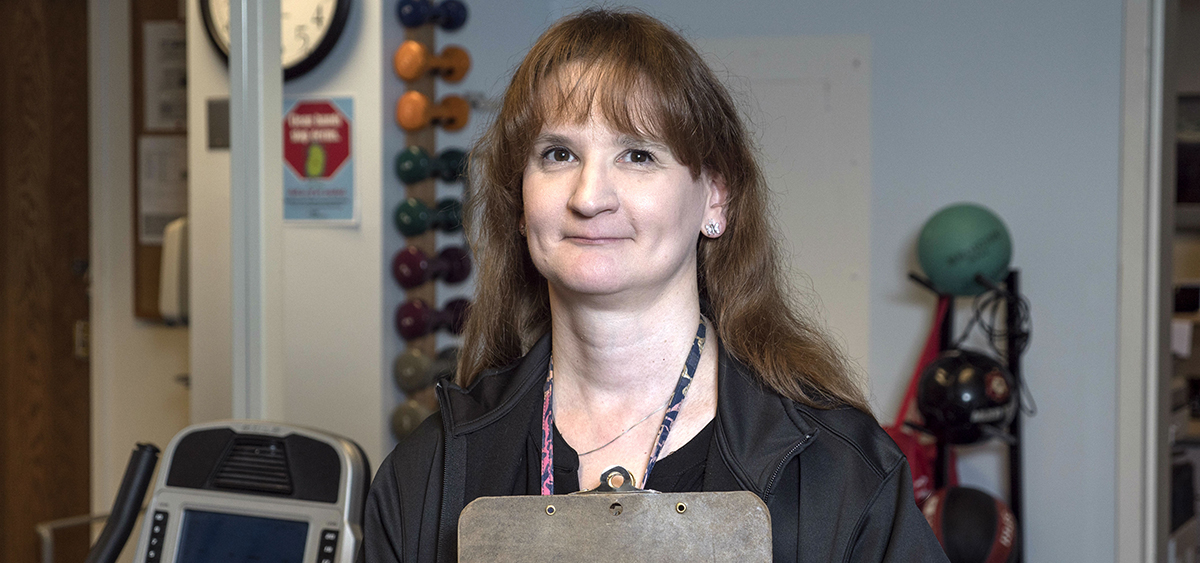 PHILADELPHIA (FEBRUARY 9, 2018) – Jean Kozempel, PT, DPT, MS, manager of physical medicine and rehabilitation at Fox Chase Cancer Center, has been selected by the American Physical Therapy Association (APTA) to receive the 2017 Oncology Section President's Award. The President's Award recognizes physical therapists in the oncology field who are considered pioneers within their practice areas.
Since 1993 Kozempel has been treating patients at Fox Chase from diagnosis through survivorship, as well as hospice. Kozempel collaborates with physicians throughout the institution to develop programs to meet the multidisciplinary needs of patients during and after cancer. Her accomplishments include specialized rehabilitation programs for head and neck cancer patients, lymphedema, a spinal cord compression protocol, cancer-related fatigue, and breast reconstruction surgery. In collaboration with the urology department she developed one of the first programs in the area for men with urinary incontinence. Kozempel has also participated in several studies to develop evidence-based practices to support recovery from a variety of cancer surgeries and side effects.
In addition to her clinical work, Kozempel has taught oncology rehabilitation, and instituted a physical therapy student training program that is designed to increase the number of cancer rehabilitation specialists entering the field.  
"Jeannie's efforts on both the local and national level have directly impacted the delivery of physical therapy services to oncology patients," said Colleen Peterson, a physical therapist at Fox Chase.
The Oncology Section of the APTA is a group of licensed physical therapists dedicated to advancing physical therapy practices to maximize the lifelong health, well-being, and function of persons affected by cancer and HIV. As a member of a task force of the Oncology Section, Kozempel has been instrumental in developing the national standards for advanced practice in rehabilitation oncology. 
Kozempel will receive the award at the Oncology Section's Celebration of Life reception on February 23 in New Orleans.