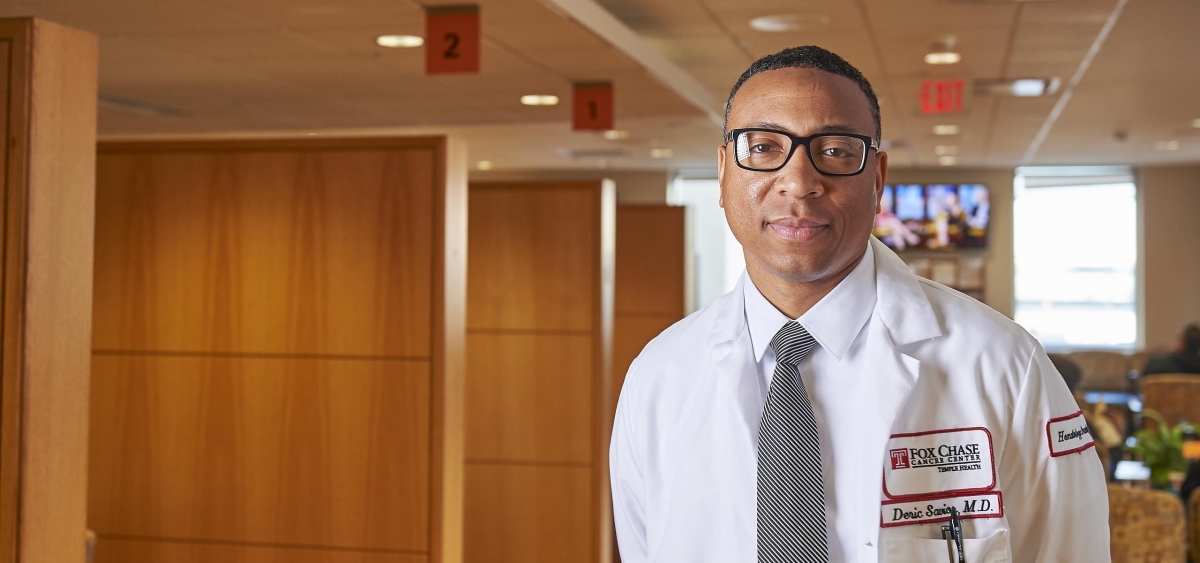 PHILADELPHIA (August 8, 2017) – Fox Chase Cancer Center and the Temple University Health System are pleased to announce the promotion of Deric Savior, MD, to the position of Head of Medical Oncology at Fox Chase Cancer Center at Temple University Hospital (TUH). In his new role, Savior will take the lead in expanding medical oncology services at TUH.
The promotion comes amid a reorganization of the Department of Hematology/Oncology at Fox Chase under new chair Martin J. Edelman, MD, who arrived in January. Edelman has structured the department into four sections: Hematologic Malignancies, Solid Tumor Oncology, General Hematology/Oncology, and Fox Chase at TUH.
Savior specializes in treating lung and head and neck cancers. As chief, one of his top priorities will be strengthening cancer research efforts, especially enrolling more patients in the many clinical trials underway at both Fox Chase and TUH.
"Over nearly a decade on the Temple faculty, Deric has served in a number of important roles, and I am excited to see all that his leadership will bring to our collaborative hematology/oncology section," said Edelman. "He has been instrumental in meeting our goal to provide the same world-class clinical care and access to the latest trials to our patients at both locations."
Previously, Savior led the Fox Chase thoracic oncology section at TUH. He is a leader whose influence has been felt throughout the institution, as he has served on the Cancer Committee, Institutional Review Board, Diversity Committee, and in the Faculty Senate. Savior has also been a faculty advisor to the Student National Medical Association/Latino Medical Association and Hematology/Oncology Interest Group at Temple University's Lewis Katz School of Medicine. He joined the medical oncology faculty at Temple in 2009.