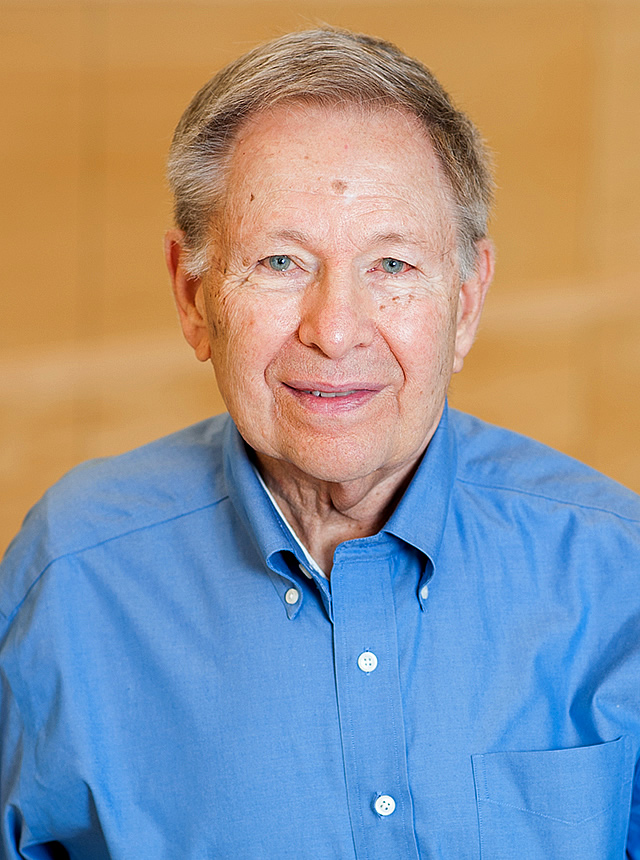 PHILADELPHIA (June 6, 2017) - It is with great respect that we remember and pay tribute to an admired colleague and friend, a luminary in his field, and a noted figure within Fox Chase Cancer Center's legacy. We join you in mourning the loss of W. Thomas London, MD, Professor Emeritus, on Saturday, June 3, following an apparent heart attack. He was 85 years old.
Tom spent his scientific and academic career at Fox Chase, originally as a member of the Institute for Cancer Research (ICR), which later became the research arm of our current Center. He was recruited in 1966 from the National Institutes of Health (NIH) by his mentor and scientific colleague, Nobel Laureate Baruch "Barry" Blumberg, MD, PhD, to participate in the Hepatitis B Research Program. He went on to become a Senior Member of the Division of Population Science, Director of the Liver Cancer Prevention Center, and then Chair of our Institutional Review Board (IRB).
Born in New York City on March 11, 1932, Tom attended Oberlin College in Ohio where he earned his bachelor's degree in 1953 before returning to New York, where he received his medical degree from Cornell University Medical College in 1957. He then completed internal medicine training at Bellevue Hospital in New York followed by a research fellowship in medicine (endocrinology) at Memorial Sloan-Kettering Cancer Center. 
Tom's work in studying the pathogenesis, diagnosis, prevention, and treatment of viral-related liver cancer earned him international recognition. He was a crucial member of the research team that first identified the hepatitis B virus and developed the first blood test to detect infection followed by development of the hepatitis B vaccine. His long-term collaboration with Barry Blumberg, who won the Nobel Prize for his discovery of the hepatitis B virus, led to breakthrough epidemiological, clinical, and virological studies of hepatitis B and its link to primary liver cancer.
Tom reported the association of what was then called the Australia antigen (later named the hepatitis B virus) with acute hepatitis, and then, together with colleagues, the association with chronic hepatitis. He showed that chronic hepatitis B infections were endemic among patients in hemodialysis units, while staff members who became infected developed acute disease. This was the first demonstration of the role of the immune system in determining the type of hepatitis a person developed.
Throughout his career, Tom traveled extensively and helped to establish hepatitis research programs in Haiman City, China and in Senegal, West Africa as well as here in Philadelphia.
Tom's contributions also had important implications for cancer prevention as well as for the protection of human subjects in clinical research. He was elected for two terms as President of the American Society of Preventive Oncology (ASPO) from 1989-1991. While president, he reorganized and redirected the society's focus on cancer prevention including tobacco cessation, vaccine-therapy, and behavioral oncology. And under his leadership, Fox Chase was one of the first institutions in the country to earn rigorous IRB accreditation in 2004 by the Association for the Accreditation of Human Research Protection Programs (AAHRPP).
After retiring from active research in 2009 as Chair of Fox Chase's IRB, he devoted his energies to reorganizing the research review process. Tom also served as a board member of the Hepatitis B Foundation. In 2015, the Foundation's Baruch S. Blumberg Institute established the W. Thomas London Distinguished Professorship in his honor.
Tom is remembered by his friends and colleagues for his quiet manner, intelligent scientific discourse, research excellence, enthusiastic mentorship, and collaborative nature. He is survived by his wife Linda, four married daughters, and eight grandchildren. Relatives, friends, and colleagues are invited to memorial services on Thursday, June 8, at 2 p.m. at Goldsteins' Rosenberg's Raphael Sacks, 6410 N. Broad Street, Philadelphia, PA 19126.