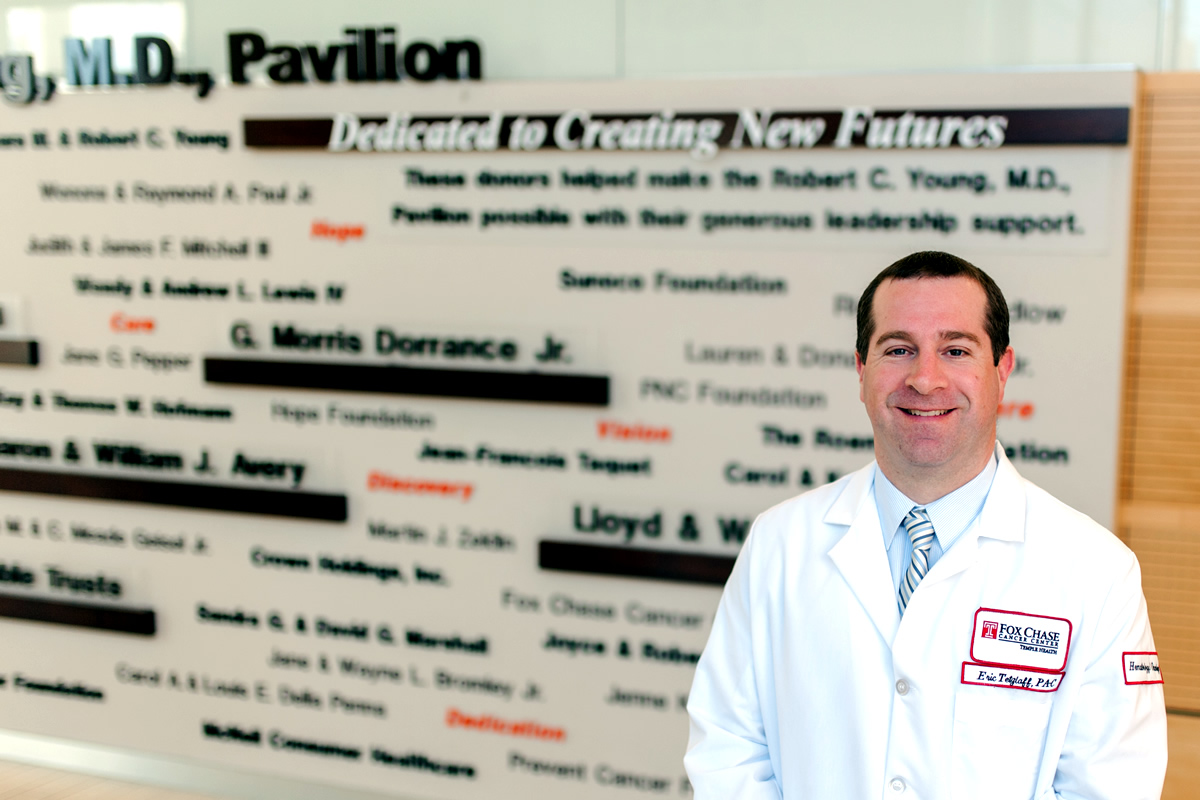 PHILADELPHIA (February 2, 2017) – Eric D. Tetzlaff, MHS, a physician assistant at Fox Chase Cancer Center, has been recognized as a Distinguished Fellow of the American Academy of Physician Assistants (AAPA). He practices clinical care for patients with gastrointestinal cancers and sarcomas, and has been a physician assistant at Fox Chase for most of his 13-year career.
Tetzlaff earned this national recognition for his outstanding contributions to patient care and the profession. He also demonstrated significant dedication and involvement in the community of Philadelphia. Tetzlaff has published in various peer reviewed journals, including Cancer, Journal of Surgical Oncology, Journal of Oncology Practice, and Gastrointestinal Cancer Research. He has presented oral and poster presentations at the annual meetings of the American Society of Clinical Oncology as well as the International Society of Gastrointestinal Oncology. He currently serves as the Immediate Past President of the Association of Physician Assistants in Oncology.
The Distinguished Fellow program was established by AAPA in 2007 in order to recognize the exceptional contributions of PAs to the profession through professional achievement, leadership, professional interaction, learning, and community service. Distinguished Fellows of AAPA represent only two percent of the entire AAPA membership. 
PAs are nationally certified and state-licensed to practice medicine in every setting and specialty. They diagnose and treat patients, order and interpret tests, assist in surgery and perform medical procedures, make rounds in hospitals and nursing homes, and prescribe medications. A PA's role may also include patient education and research. PAs are educated at the graduate level through rigorous programs modeled on the medical school curriculum, and are viewed as a solution to increasing access to healthcare for the increasing number of patients entering the system.
About AAPA
AAPA is the national organization that advocates for all PAs and provides tools to improve PA practice and patient care. Founded in 1968, AAPA represents a profession of approximately 108,500 certified PAs across all medical and surgical specialties in all 50 states, the District of Columbia, the U.S. territories and the uniformed services. Visit www.aapa.org to learn more.