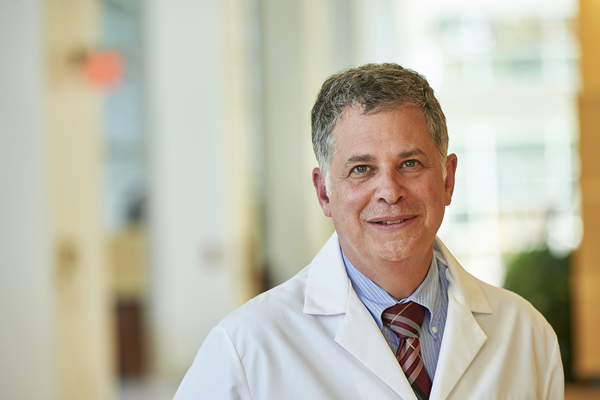 PHILADELPHIA (January 9, 2017) – Martin J. Edelman, MD, a nationally renowned expert in the research and treatment of lung cancer, has joined Fox Chase Cancer Center as Chair of the Department of Hematology/Oncology. He will also serve as deputy cancer center director for clinical research, leading the effort to integrate discoveries from the Translational Research Initiative into a strong investigator-initiated clinical trials program.
Edelman will collaborate with clinical, scientific, and administrative leadership to grow robust therapeutic, clinical research, and translational research programs in hematology and medical oncology while leading the department in evaluating emerging national trends in the delivery of cancer care. He will start at Fox Chase on February 6, 2017.
"Dr. Edelman is a visionary in his field, and I am confident he will lead our Department of Hematology/Oncology to even greater heights," says Richard I. Fisher, MD, president and CEO of Fox Chase. "I am delighted that he has chosen to become a key part of our faculty, and I look forward to what we will all achieve together in the coming years."
Edelman comes to Fox Chase from the University of Maryland Greenebaum Comprehensive Cancer Center (UMGCCC), where he served most recently as the head of the section of solid tumor oncology and associate director of the division of hematology/oncology. In addition, he was a professor of medicine and radiation oncology at the University of Maryland School of Medicine.
"Fox Chase Cancer Center has a national and international reputation for excellence," Edelman said. "I look forward to working with leading experts in cancer research and treatment as we continue the institution's long legacy of progress against cancer."
After receiving his medical degree from Albany Medical College, Edelman completed residency training in internal medicine and a hematology/oncology fellowship at the Naval Hospital in San Diego. He served for more than 20 years in the United States Navy Reserve, retiring with the rank of Captain. During his active service, Edelman served aboard the USS Duluth (LPD-6) as senior medical officer, providing care for 1,000 Navy and Marine personnel.
Edelman's achievements in oncology include developing one of the most commonly used regimens for treating advanced lung cancer and working toward the development of new agents and biomarkers to personalize lung cancer therapy. He has a particular interest in approaches that integrate surgery, radiation, and chemotherapy in the management of lung cancer patients.
He serves on the Lung Cancer Committee of the Alliance (previously CALGB), the Board of Directors of the Alliance for Clinical Trials in Oncology, and the Thoracic Malignancies Steering Committee of the National Cancer Institute's Scientific Review Group. In addition, he is the Medical Oncology Co-chair for the Lung Cancer Committee of the Radiation Therapy Oncology Group (RTOG, NRG).  He has been active within the American Society for Clinical Oncology (ASCO) and has chaired the lung cancer sections for the scientific and educational committees as well as a past member of the governmental affairs committee.   As a member of the International Association for the Study of Lung Cancer (IASLC) he has been a chaired of the Career Development and Ethics Committees.
In addition to clinical and leadership achievements, Edelman has been a prolific writer, publishing more than 325 scientific articles, abstracts, and book chapters. He has served on the editorial boards or as an ad-hoc reviewer of numerous academic journals, including the New England Journal of Medicine and the Journal of Clinical Oncology, and currently serves as deputy editor of the journal Lung Cancer.