PHILADELPHIA (March 24, 2016) — Richard E. Greenberg, MD, FACS, chief of urologic oncology at Fox Chase Cancer Center, will receive the 2016 American Urologic Association (AUA)'s Residents Committee Teaching Award at the organization's annual meeting in San Diego this May.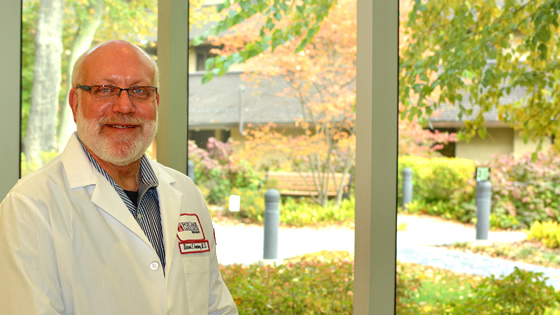 The AUA Residents Committee Teaching Award is presented annually to an outstanding urology educator or program director who has dedicated a portion of his/her career to teaching residents. This award also recognizes an individual who influences residents to pursue a career in academic medicine.
"After obtaining knowledge, the next best thing is to pass it on," said Greenberg. "I am honored to receive this award. The residents I work with are some of the hardest working people I know and I look forward to strengthening the urology program at Fox Chase with them." Greenberg will be recognized at the Residents Forum on Saturday, May 7.
Greenberg began his career at Fox Chase in 1983.  He specializes in the treatment of kidney, prostate, penile, testicular, ureteral, urethral and bladder cancers, as well as the treatment of adrenal masses. He is skilled in minimally invasive procedures, including pure robotic surgery.
Greenberg is certified by the AUA Board of Urology. He received his MD from Cornell University Medical School and completed residencies at New York-Presbyterian Hospital and Memorial Sloan-Kettering Cancer Center.
The AUA Annual Meeting is the largest gathering of urologists in the world, providing unparalleled access to groundbreaking research, new guidelines and the latest advances in urologic medicine.
To find out more about this year's annual meeting and award winners, visit http://www.aua2016.org/.