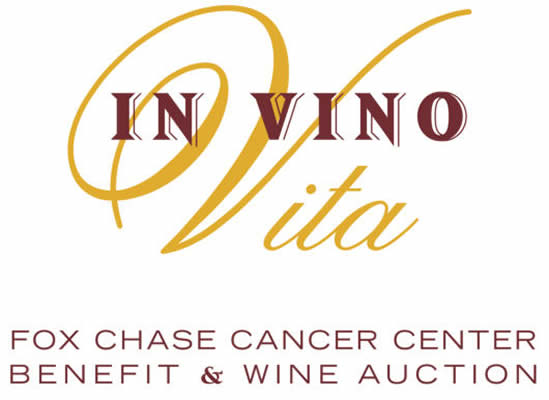 PHILADELPHIA, PA (March 1, 2016) — Fox Chase Cancer Center, in partnership with its Board of Associates, will present its signature fundraising event In Vino Vita Benefit and Wine Auction on Saturday, April 9, 2016 at Vie.
The 2015 event was attended by more than 400 prominent regional healthcare, business, and philanthropic leaders — doubling the attendance of the previous year. We hope you'll join us as we toast to the life-saving work underway at Fox Chase and the patients and families we're privileged to treat every day.
In keeping with its name, meaning "In Wine, Life," the event raises money for cutting-edge research and patient care at Fox Chase by offering guests the opportunity to participate in a rousing auction with high-end wine and experiences available to the highest bidders, accompanied by live music, and a multi-course dinner.
Stellar Fundraising Auctions of San Francisco, one of the nation's leaders in philanthropic auctions, will be part of the evening's entertainment and premiere auctioneer Greg Quiroga will lead the event.
In the past two years, In Vino Vita has raised nearly $1 million for Fox Chase funding initiatives, such as 45 state-of-the-art recliners for our busy infusion room, a total renovation and expansion of the surgical family waiting area, two postdoctoral fellowships, and the Cancer Center Director's Fund — a reserve which helps offset funding gaps for various priority projects.
Tickets are available at vinovita.org.