PHILADELPHIA (June 3, 2015) — Scientist and Nobel Laureate Irwin "Ernie" Rose, PhD, passed away June 2, 2015, after a long illness. He was 88. Rose shared the 2004 Nobel Prize for chemistry with Aaron Ciechanover and Avram Hershko of the Israel Institute of Technology for their pioneering work in discovering the ubiquitin conjugating system. Rose conducted this research as a senior scientist at Fox Chase Cancer Center in Philadelphia, where he worked from 1963 until he retired in 1995.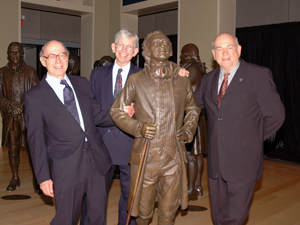 "Ernie Rose was a collaborator in the truest sense of the word. He was drawn to Fox Chase Cancer Center for the opportunity to learn from a wide range of researchers and he thrived in this environment," said Richard Fisher, MD, president and CEO of Fox Chase Cancer Center. "Ernie contributed to many advances in the field of biochemistry and we were extremely fortunate to have him as an esteemed member of our scientific faculty. On behalf of Fox Chase, I offer our deepest condolences to Ernie's wife, Zelda Budenstein Rose, an accomplished scientist, their children, grandchildren and extended family."
Rose was born in Brooklyn, NY, on July 16, 1926 and forged an paralleled career as one of the world's top biochemists, one that began as a teenager in Spokane, Washington, when he decided to devote his life to investigating the complex activity within cells.
He earned a doctoral degree at the University of Chicago in 1952 and spent his Fox Chase career on research that revealed how ubiquitin molecules – the body's cellular building blocks – facilitate the breakdown of old and damaged proteins. These findings of the "kiss-of-death" mechanisms inside cells proved revolutionary, transforming the field of biology and ultimately fostering a new understanding of the molecular activity involved with cancer and other diseases.
"Ernie had a genius for asking the right questions," said Jonathan Chernoff, MD, PhD, deputy director and chief scientific officer at Fox Chase Cancer Center. "In the mid-1950s, when many scientists were interested in how proteins are synthesized, Ernie became fascinated with the opposite issue—how are proteins degraded? With the collaboration of his Israeli colleagues he cracked that problem with the discovery of the ubiquitin conjugating system. He was the quintessential scientist—perseverant, soft-spoken and interested in science for science's sake. We will miss him very much."
Rose's laboratory discoveries led to the development of cancer drugs like Velcade, which treats multiple myeloma and mantle cell lymphoma. "
Ernie was not interested in personal fame, and was oblivious to the politics of science; his total satisfaction came from solving intricate biochemical puzzles," said Ann Skalka, PhD, William Wikoff Smith Chair in Cancer Research at Fox Chase Cancer Center. "Although Ernie was an intellectual leader on the project that ultimately won him the Nobel, he took no personal credit. He was rather surprised at being recognized, but all of us at Fox Chase knew that the Nobel Committee had gotten it right."