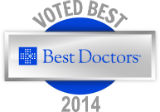 (Philadelphia, March 26, 2014)- Temple Health is once again well represented in the latest Best Doctors in America® List. Eighty-three (83) Temple physicians have been named to the "Best Doctors" list for 2014, which includes physicians that practice at Temple University Hospital, Temple University Hospital-Episcopal Campus, Jeanes Hospital, and Fox Chase Cancer Center. Only five percent of doctors in America earn a spot on the prestigious list, which is assembled by Best Doctors, Inc.® and audited and certified by Gallup®.
Every doctor on the "Best Doctors" list was nominated by fellow physicians and selected for final inclusion on the list through impartial peer review. The doctors on the list are recognized for providing the most advanced medical expertise and knowledge to patients with serious conditions.
"Having 83 of our physicians from more than two dozen specialties named among the very best doctors in the nation is a source of great pride for Temple Health," said Larry R. Kaiser, MD, FACS, President and CEO of Temple University Health System, and Dean of Temple University School of Medicine. "We have worked extremely hard to recruit the very best doctors to Temple in order to provide our patients with the highest quality medical care possible."
The 2014 Temple "Best Doctors in America®" are:
Abbas E. Abbas, MD, Thoracic Surgery
Rene J. Alvarez, Jr., MD, Cardiovascular Disease
Stephen C. Aronoff, MD, MBA, Pediatric Specialist
Paul J. Bandini, Jr., MD, Gastroenterology
Steven Berney, MD, Rheumatology
Randal R. Betz, MD, Pediatric Specialist
Richard J. Bleicher, MD, FACS, Surgical Oncology
Guenther Boden, MD, Endocrinology and Metabolism
Marcia Boraas, MD, Surgery
Alfred A. Bove, MD, MPH, Cardiovascular Disease
James P. Bradley, MD, Plastic Surgery
Michael Bromberg, MD, MPH, Medical Oncology and Hematology
Robert W. Carlson, MD, Medical Oncology and Hematology
Howard A. Cohen, MD, Cardiovascular Disease
Steven J. Cohen, MD, Medical Oncology
Harry S. Cooper, MD, Pathology
Joshua M. Cooper, MD, Cardiovascular Disease
Gerard J. Criner, MD, FACP, FACCP, Pulmonary Medicine, Critical Care Medicine
Gilbert E. D'Alonzo, DO, Pulmonary Medicine, Critical Care Medicine
William G. DeLong, Jr., MD, Orthopaedic Surgery
William R. Dubin, MD, Psychiatry
Daniel Edmundowicz, MD, MS, FACC, Cardiovascular Disease
Nestor Esnaola, MD, MPH, MBA, Surgical Oncology
David W. Essex, MD, Medical Oncology and Hematology
Barry Evans, MD, Pediatric Specialist
Arthur M. Feldman, MD, PhD, Cardiovascular Disease
Richard I. Fisher, MD, Medical Oncology and Hematology
Robert S. Fisher, MD, Gastroenterology
Frank K. Friedenberg, MD, MSEpi, Gastroenterology
Susan Gersh, MD, Internal Medicine
Lori J. Goldstein, MD, Medical Oncology
Richard E. Greenberg, MD, Urology
Oleh Haluszka, MD, Gastroenterology
Shelly Bowers Hayes, MD, Radiation
Enrique Hernandez, MD, Obstetrics and Gynecology
John P. Hoffman, MD, FACS, Surgical Oncology
Brenda J. Horwitz, MD, Gastroenterology
Eric M. Horwitz, MD, Radiation Oncology
Gary R. Hudes, MD, Medical Oncology
Mercedes P. Jacobson, MD, Neurology
Charles A. Jungreis, MD, Radiology
Larry R. Kaiser, MD, FACS, Thoracic Surgery
Lawrence I. Kaplan, MD, FACP, Internal Medicine
Rosalind D. Kaplan, MD, FACP, Internal Medicine
Martin G. Keane, MD, Cardiovascular Disease
Earl D. King, MD, Critical Care Medicine, Pulmonary Medicine, Sleep Medicine
Stephanie A. King, MD, Obstetrics and Gynecology
Thomas R. Klumpp, MD, Medical Oncology and Hematology
Samuel L. Krachman, DO, Pulmonary Medicine, Sleep Medicine
Benjamin Krevsky, MD, MPH, Gastroenterology
R. Tim Lachman, MD, Neurology
Michael H. Levy, MD, PhD, Internal Medicine
Karen Lin, MD, MPH, FACP, Internal Medicine
Bennett Lorber, MD, DSc, Infectious Disease
Ian B. Maitin, MD, MBA, Physical Medicine and Rehabilitation
Dimitrios S. Mastrogiannis, MD, PhD, Obstetrics and Gynecology
Malini S. Mathur, MD, Gastroenterology
Alan H. Maurer, MD, Nuclear Medicine
Michael M. Millenson, MD, Medical Oncology and Hematology
Beth Moughan, MD, Pediatrics
Ray A. Moyer, MD, Orthopaedic Surgery
Minhhuyen T. (Minh) Nguyen, MD, Gastroenterology
Henry P. Parkman, MD, Gastroenterology
Michel A. Pontari, MD, Urology
A. Koneti Rao, MD, Medical Oncology and Hematology
John A. Ridge, MD, PhD, FACS, Surgical Oncology
Andrew B. Roberts, MD, Vascular Surgery
Howard M. Ross, MD, FACS, FASCRS, Colon and Rectal Surgery
Ronald N. Rubin, MD, Medical Oncology and Hematology
Stephen C. Rubin, MD, Obstetrics and Gynecology
Elin R. Sigurdson, MD, PhD, FACS, Surgical Oncology
Michael S. Smith, MD, MBA, Gastroenterology
Robert M. Steiner, MD, Radiology
Ellen M. Tedaldi, MD, Internal Medicine
Jeffrey L. Tokar, MD, Gastroenterology
Neal S. Topham, MD, FACS, Plastic Surgery
Robert G. Uzzo, MD, FACS, Surgical Oncology, Urology
Colleen Veloski, FACE, ECNU, Endocrinology and Metabolism
Margaret von Mehren, MD, Medical Oncology
James C. Watson, MD, FACS, Surgical Oncology
Michael M. Weinik, DO, Physical Medicine and Rehabilitation
F. Todd Wetzel, MD, Orthopaedic Surgery
Gil Yosipovitch, MD, Dermatology