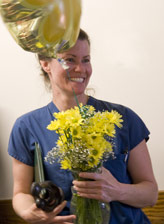 PHILADELPHIA (April 2, 2012) — Nurses at Fox Chase Cancer Center are being honored with The DAISY Award for Extraordinary Nurses. The award celebrates the clinical skill and compassionate care given by nurses in all types of settings.  Registered nurse Sue Coady is the first to receive this distinguished award at Fox Chase.
"Sue is truly deserving of this award," says Janet Miller-Stocklin, the registered nurse at Fox Chase who nominated her. "She always exemplifies skilled and compassionate nursing, but recently she truly demonstrated her superb skills by saving the life of one of our patients." The DAISY award is given to outstanding nurses in hundreds of hospitals across the country and abroad. Fox Chase is proud to be among the hospitals recognizing and honoring their extraordinary nurses. This award program offers patients, families, and professional colleagues a way to honor nurses for all they do.
"Sue has a remarkable ability to know what is wrong with a patient before she even takes their vital signs," says John P. Hoffman, MD, a surgical oncologist at Fox Chase who works with Sue.  "She was caring for one of my patients when he became critically ill and her perception and quick actions were clearly what saved his life."
The DAISY Foundation was established in 2000 by the family of J. Patrick Barnes, who died of complications of the auto-immune disease idiopathic thrombocytopenia purpura at the age of 33.  During Pat's 8-week hospitalization, his family was awestruck by the care and compassion his nurses provided not only to Pat but to everyone in his family.  To honor Patrick's memory his family started this foundation, which recognizes the skillful and compassionate care he received from his nurses. The award is in collaboration with the American Organization of Nurse Executives (AONE) and has the support of The American Nurses Credentialing Center (ANCC) Magnet Recognition Program.