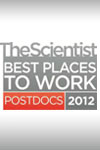 PHILADELPHIA (March 29, 2012) – According to an annual survey done by The Scientist, a prominent life sciences magazine, Fox Chase Cancer Center is among the top three best places in the country for postdoctoral researchers to work and was the only top-ranked academic institution in the region.
In past years, Fox Chase has been ranked among the top twenty institutions listed in the survey—coming in at number eight in 2011 and number 17 in 2010. 
"This year we have a remarkably strong showing in the survey," says Glenn Rall, PhD, the associate professor who oversees the Postdoctoral Research Program at Fox Chase.  "I think this reflects on our strong culture of mentoring, integration of basic and clinical research pertinent to cancer, and a common view that our postdoctoral fellows really are the engines of scientific progress."
The survey's results show that these once temporary positions are lasting longer and longer, but postdocs are enjoying more benefits and are happier for it, with fewer postdocs reporting their job satisfaction as "Fair" or "Poor," and more choosing "Excellent" today, than over the 10-year history of The Scientist's Best Places to Work survey. 
Increased postdoc satisfaction may also stem from the support they now enjoy within their own institutions and nationwide. When The Scientist first launched its survey in 2003, the National Postdoc Association (NPA) was just being conceived. Now, in addition to the NPA, many institutions boast internal postdoc associations and offices to which these post-graduate researchers can share their feedback.
"We at Fox Chase see a lot of value in having a strong postdoc program and community," says Rall.  "It plays a key role in our Center's ability to perform pioneering research that makes a difference to our patients."  
More than 1,500 postdocs responded to this year's survey. The full survey results and methodology are detailed in the article "Best Places to Work for Postdocs: 2012," which appears in The Scientist's April issue and online at www.the-scientist.com.
For more information about Fox Chase's Postdoctoral Research Program, including a video tour conducted by the Center's postdocs, please visit www.fccc.edu/research/postdoc.