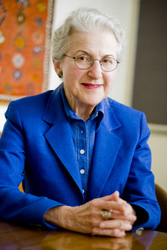 CHICAGO (March 27, 2012) – Beatrice Mintz, PhD, professor and Jack Schultz chair in basic science at Fox Chase Cancer Center in Philadelphia, will receive the Ninth Annual AACR Award for Lifetime Achievement in Cancer Research during the opening ceremony of the AACR Annual Meeting 2012, held Sunday, April 1, at 8:15 a.m. CT in room W375 of McCormick Place West.
The AACR Award for Lifetime Achievement in Cancer Research was established in 2004 to honor an individual who has made significant fundamental contributions to cancer research, either through a single scientific discovery or a body of work. These contributions, whether they have been in research, leadership or mentorship, must have had a lasting impact on the cancer field and must have demonstrated a lifetime commitment to progress against cancer.
"Dr. Mintz's scientific insights have led to new directions in developmental cancer biology and genetics," said Margaret Foti, PhD, MD (h.c.), chief executive officer of the AACR. "Her groundbreaking work has helped shape our understanding of stem cell behavior and the tumor microenvironment in cancer, and has provided scientists with important tools to study the many types of cancer."
Mintz's pioneering research involving chimeric and transgenic mice, stem cells and tumor microenvironments have had a profound effect on cancer research and have greatly advanced the techniques that scientists use today to study the molecular genetic mechanisms that drive cancer progression. Her work has also contributed to a better understanding of the role of epigenetic changes in cancer.
Mintz said she likes to ask big questions, as they hold the most promise of uncovering the underlying order in complex events. Her first big question was: How does a complex organism, such as a mouse, develop from a single-cell fertilized egg? That question, though not in itself new, led her to devise methods enabling a new experimental approach to the problem. By assembling early embryo cells from two genetically different mouse strains, viable "chimeric" mice were obtained, in which the genetic differences served as markers of cell migrations and interactions. Development occurred as an orderly expanding hierarchy of clones from small numbers of increasingly specialized stem cells, with a favorable balance between proliferation and differentiation.
In the mid-1970s, Mintz then proposed that cancer is essentially a genetically caused aberration of development, in which the balance is shifted toward stem cell proliferation. Thus, her research has made it possible to study cancer experimentally in an intact model organism throughout life.
Mintz chose to examine the relation between genetically cancer-prone early stem cells and normal cells, by producing chimeras including stem cells of a mouse teratocarcinoma (a tumor of the earliest-stage stem cells). The results were dramatic. Normal mice were obtained in which tumor-strain cells were found in all tissues examined, along with normal-strain cells. This led to another new and important concept: that the microenvironment can have an ameliorating effect on the behavior of cancer cells.
Her laboratory next produced an in vitro stem cell line of the teratocarcinoma genotype, and showed that it could serve as a vehicle to convey a desired genetic change into the embryo, after first testing the cells in culture for that change. Next, the availability of specific DNA independently allowed Mintz's laboratory, and several others, to introduce a gene of interest directly into the fertilized egg. The change is then transmitted to offspring through the germ line. These mice are termed "transgenic."
Mintz has chosen to produce melanoma-prone transgenic mice that are valid models of melanoma in humans. The mice provide a means of improving our understanding of this malignancy, and of exploring treatments.
During her career, Mintz has authored more than 170 scientific publications, advancing our knowledge of developmental biology and genetics in cancer research. A member of the prestigious U.S. National Academy of Sciences since 1973, she has won numerous awards for pioneering research, including the Lewis S. Rosenstiel Award in Basic Medical Research, in 1980, the Genetics Society of America Medal, in 1981, the Ernst Jung Gold Medal for Medicine, in 1990, the American Cancer Society National Medal of Honor for Basic Research, in 1997, and in 2011, the Szent-Györgyi Prize for Progress in Cancer Research from the National Foundation for Cancer Research. She has been a member of numerous editorial boards and has received several honorary degrees.
Mintz earned a bachelor's degree from Hunter College of The City University of New York and a doctorate at the University of Iowa, in Iowa City.