Taking Chances
01 July 2022
"Every day I learned so much information--whether it be new lab techniques or the biological mechanisms behind the research."
Hello! My name is Gabriela, I am a rising sophomore at the University of Delaware. I am a biology major with a minor in human development and family science and am hoping to eventually go to medical school. I have always loved science and the idea of doing research. The idea that you are the first person ever to ever learn a specific piece of information is so inspiring. My natural curiosity and love for science led me to look for research opportunities early on.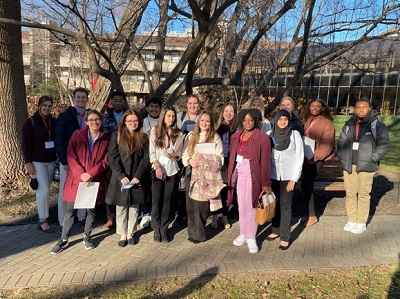 My time at Fox Chase Cancer Center began as a random Google form that almost got lost in my email. I filled it out in the beginning of my freshman year of college. The time when everything was so exciting and new and I said YES to every opportunity. A few weeks later into the school year, I received an invitation to a Zoom meeting. I didn't remember that Google form I filled out and had no idea that the meeting was an interview to go on the Discovery Day bus trip to Fox Chase. Luckily, I was invited to visit the Center Where I learned what Fox Chase was about, and where I would fit in if I applied for the summer fellowship. After visiting, I was truly inspired. It was clear that the patients were valued in every aspect, even the very architecture of the building was designed to make the patients feel more relaxed and comfortable.
Although I was inspired to apply, I was also apprehensive because I knew I was younger than many of the program's alums and I had absolutely no research experience. However, I was excited about the opportunity to contribute to research that could one day help patients. I ended up applying with the hope that when I got rejected, Dr. Purdy and the other application advisors would help me revise my application to reapply the following year. However, the chance I took paid off and I was accepted into the program on my first try!
I was extremely excited for the opportunity I was given, but I was also terrified. On top of the nerves I had about the fellowship itself, I was moving two hours away from home to a new city. I had never lived in an apartment on my own before (my dorm does not count). On top of that, I would be living with a guy I have never met before. Once I got to Philadelphia, however, everything began to fall into place and many of my fears faded away. The other fellows and I became fast friends through frequent game nights and ice cream trips. In addition to the other fellows, everyone at Fox Chase was so welcoming and I got to know the other members of my lab well.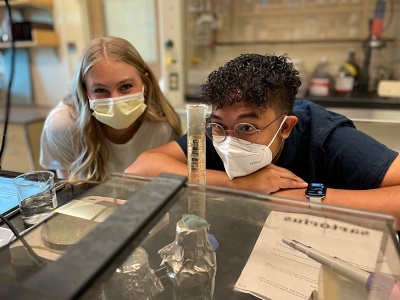 Prior to this year, my summers typically consisted of lounging by the pool as a lifeguard and hanging out with my friends, so it took me a few days (or weeks, but who's counting?!) to adjust to the rigorous schedule in the lab. Every day I learned so much information--whether it be new lab techniques or the biological mechanisms behind the research. The 'bootcamp', during the first week of the program, really forced us to jump into learning. The rigorous schedule and fast-paced learning of challenging topics was very far out of my comfort zone; I had grown used to learning in a classroom setting where I was presented small amounts of information at a digestible pace. In the beginning, I was often overwhelmed by all the new topics, vocabulary, and concepts. Dr. Purdy and Dr. Leystra made sure I didn't drown in all the new information though and stopped to explain what everything was and how it connected in a way that I could understand and follow.
Now I am responsible for my own projects in Dr. Erica Golemis's lab. My lab focuses on pancreatic cancer, and more specifically the effect that the SCAP/SREBP signaling pathway has on the development of pancreatic cancer. These proteins play a role in regulating triglyceride and cholesterol levels in the body, and studies have shown that an increase in fat leads to an increased risk for cancer. My mentor, Anna Lilly, has walked me through many different lab techniques. She also ensures that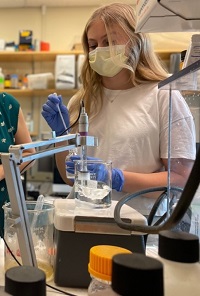 I genuinely understand why we are doing each technique. I have done several Western blots to test different antibodies to see which proteins were affected when SCAP/SREBP were knocked out. I have also watched and helped with several other protocols and been trained to use specialized equipment such as the confocal microscope. Currently, I am beginning an independent project to observe how the loss of SCAP/SREBP affects the development of pancreatitis and pancreatic inflammation. I will be utilizing immunohistochemistry and images from the confocal microscope to obtain the data.
So far I have thoroughly enjoyed my time at Fox Chase. I cannot believe that I am almost halfway done already. Everyone here has been so welcoming, and genuinely wants the best for all the students. They will not hesitate to pause their busy day to sit down to just check in with you and chat, especially if you bring cookies with you. Not only have I expanded my laboratory knowledge here, but also my professional skills. We have attended many talks to improve our professional skills such as a scientific writing workshop and career talks that have been invaluable. I can't wait to see what the rest of the ten weeks will bring.
Finally Getting Data and Fun Trips
21 August 2022
"Throughout our time in the lab, were also working on a presentation to give at a symposium after the fellowship was completed. It was an exciting way to share the data I collected and why it was important."
The second half of the fellowship has been incredibly busy, but highly rewarding. I have been working to quantify the amount of immune infiltration there is in the pancreas of mice when you knock out the SCAP/SREBP pathway compared to wildtype mice. To do this, I stained over fifty slides using an immunohistochemistry protocol. It took a lot of practice to get the technique down, and then the protocol needed to be tweaked to work for each specific antibody needed. Once the staining was complete, the slides were placed into a scanning microscope that ran for several days before the final images were captured.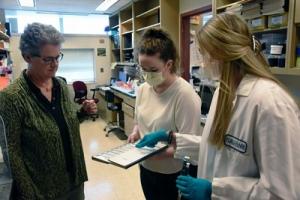 I really enjoyed doing the bench work and did not expect data analysis to be such a large task. After the final images were taken, we needed to be able to quantify how much immune infiltration there was in each tissue. I did this by training a computer program to recognize the areas of tissue that stained positive for immune cells and areas that didn't. This program then ran overnight, and then produced around 34 GB of data. This is when I learned that as a scientist, it is essential to enjoy, or at least be able to push through, very tedious tasks. I spent about a week organizing the data into an excel sheet before I could finally make a graph showing that there was a statistically higher amount of immune infiltration in the knockout mice. It was so rewarding to finally be able to produce data on my own!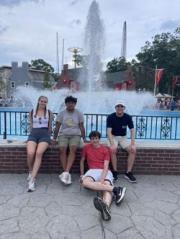 This fellowship has also extended well outside the lab, ensuring there were very few dull moments. Dr. Amanda Purdy and her husband, Dr. Alyssa Leystra, and Dr. Glenn Rall took me and the other fellows on a mystery picnic in Old City, Philadelphia. We solved riddles to find out where we could go next, sightseeing and receiving treats at each stop. I had never been to Old City so it was such a fun way to explore it. In addition to the mystery picnic, we got together for several dinners. I genuinely enjoyed spending time with everyone, especially when Dr. Amanda Purdy and I were digging into a charcuterie board. The other fellows and I also planned a trip to six flags. It was such a fun day of rides and dip and dots!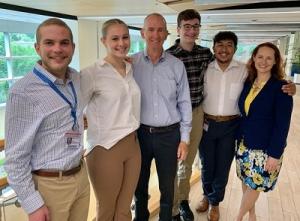 The little trips and fun plans were a great way to break up the hard work we were all doing. Throughout our time in lab, we were also working on a presentation to give at a symposium after the fellowship was completed. It was an exciting way to share the data I collected and why it was important. However, it took a lot of work to create a presentation I could be genuinely proud of. Dr. Purdy and Dr. Leystra not only helped me to improve this presentation, but also gave me skills that I can take with me throughout my career. After reflecting on this fellowship, that seems to be a common theme. The skills I have learned through working in the lab and listening to the many talks prepared for us can be taken with me for many years to come in my future career. I am so grateful to have built lasting relationships with Dr. Amanda Purdy, Dr. Alyssa Leystra, Dr. Glenn Rall, and all the members of my lab, Anna Lilly in particular, and that I have been able to be a part of this experience.