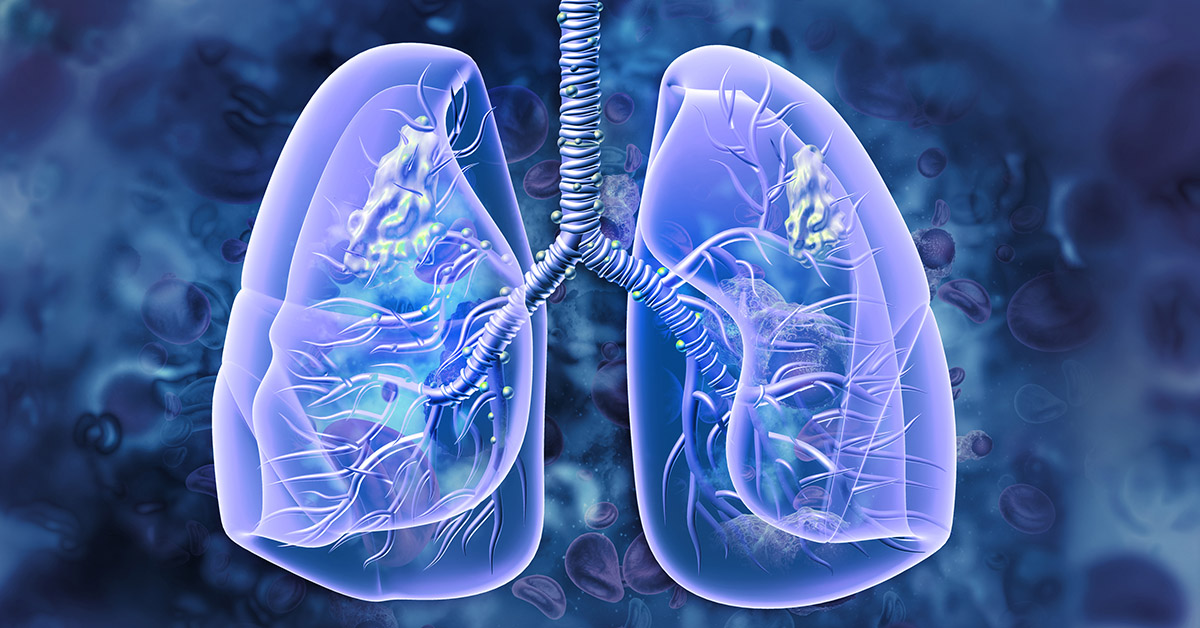 VIEW ALL POSTS
Targeted Therapies Are Game Changers for Lung Cancer Patients with a KRAS Mutation
Mutations in the KRAS gene are the most common type of mutations in non-small-cell lung cancers (NSCLCs). Patients with these mutations haven't always responded well to standard lung cancer treatments. But the development of a new targeted therapy is changing the outlook for many patients with KRAS mutations.

Here, Fox Chase hematologist/oncologist Julia Judd, DO, talks about KRAS mutations, the advances made in treating them, and why patients should be hopeful.

What are targeted therapies and how are they used to treat NSCLCs?

Targeted therapies are drugs designed to target a specific mutation that's causing a cancer cell to replicate. By directly targeting the mutation, we're shutting down the signaling process that's triggering the cancer to replicate and survive.

Targeted therapies are a more personalized option and can be more effective than systemic treatments like chemotherapy in selected patients with the targetable mutation. Often, they're used—either alone or with chemotherapy—for NSCLCs that have become more advanced. Now, they are also being used after surgical resection for localized lung cancer.

What are KRAS mutations?

About 1 in 4 patients with NSCLC has genetic changes we call KRAS mutations. These mutations abnormally activate the KRAS protein, enabling cancer cells to grow and spread more quickly. There are multiple KRAS mutation subtypes, and we're learning more and more about them.

We do know that some KRAS mutations are more likely to occur in smokers or former smokers while others are more common in patients who have never smoked or minimally smoked. They're also more likely to affect white patients followed by black patients compared with Asian patients—particularly white female patients.

How do KRAS mutations affect treatment for NSCLCs?

In the past, it was thought that patients with KRAS mutations may not respond as well to treatment. But that may have been because we were trying to treat every KRAS mutation in the same way. Now, we know that not all KRAS mutations are alike, and a treatment that might work on one subtype might not work on another. Now, the goal is to develop treatments that are specific to each subtype.  

Are there any targeted options for treating KRAS mutations?

Yes, Lumakras (sotorasib) is a targeted therapy, which was just approved by the FDA in May and is used to treat NSCLCs with a specific KRAS mutation. It's designed to target the KRAS mutation subtype G12C. Sotorasib works by attaching to a specific pocket in the KRAS protein, which keeps the protein in a deactivated state. This prevents the cancer from replicating and spreading. Patients can take it as a pill, and it's generally well-tolerated.

Which patients are candidates for sotorasib?

Patients with the KRAS mutation subtype G12C may be candidates for sotorasib. It's currently approved as a second-line treatment (and beyond) for patients whose cancer has grown despite primary treatments like immunotherapy and chemotherapy.

I recommend candidates seek out targeted treatments like sotorasib at a major cancer center, such as Fox Chase, with physicians who specialize in lung cancer. There's a lot of nuance that goes into lung cancer treatment, and understanding those nuances enables us to give patients the best treatment possible.

Will more targeted therapies be developed for KRAS in the future?

We now have one approved targeted therapy with great outcomes, and there are going to be many more therapies for different KRAS mutations. As we learn the details of different KRAS mutations, new treatments will be developed to target them. Patients should be very hopeful. 

Learn more about lung cancer treatment at Fox Chase Cancer Center.

To schedule an appointment at Fox Chase Cancer Center, call 888-369-2427 or fill out our online appointment request form.