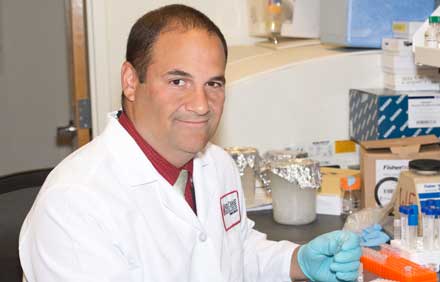 Phillip Abbosh, MD, PhD, Receives Award from AUA for Bladder Cancer Research
Phillip Abbosh, MD, PhD, assistant professor in the Molecular Therapeutics Program at Fox Chase Cancer Center and a graduate of Fox Chase's Society of Urologic Oncology Fellowship Program, was presented with an award for his bladder cancer research at the Annual Meeting of the American Urological Association in Boston in May. Abbosh presented his research during the "Bladder Cancer: Basic Research and Pathophysiology IV" session, and won "Best Poster" out of the other 20 in the session.

Abbosh presented a project demonstrating that response to neoadjuvant chemotherapy may involve the immune system in localized muscle-invasive bladder cancer patients. Dr. Abbosh led a research team from Fox Chase and collaborating institutions searching for evidence that chemotherapy may activate the immune system to eradicate bladder cancer.

"Tumor immunology is a field with intense interest currently because of dramatic responses seen with new drugs that rev up the immune system," Abbosh explained. "We are finding that maybe boring old chemotherapy is doing the same thing, making us see those drugs in a new light. It's been a lot of fun because in order for the project to work we have to get help from a lot of different collaborators, and everyone was so willing to pitch in and help.  It makes discovery a lot easier."

Abbosh and team performed whole exome sequencing and gene expression analyses on tumors from patients in two independent cohorts who underwent cisplatin-based neoadjuvant chemotherapy to arrive at these conclusions.

"Chemotherapy works by damaging cancer cells, but it may also enable the immune system to recognize and destroy cancer cells," Abbosh said. "Patients whose tumors completely responded to pre-surgical chemotherapy had higher levels of killer T cells and a higher number of mutations that may have been recognized by those killer T cells as foreign or non-self."

The team is now working on subsequent studies to find more definitive evidence that chemotherapy causes the immune system to recognize and destroy bladder cancers. These findings may eventually make it possible to develop better combined immunotherapy/chemotherapy treatment regimens.

Read more about Dr. Abbosh's bladder cancer research.