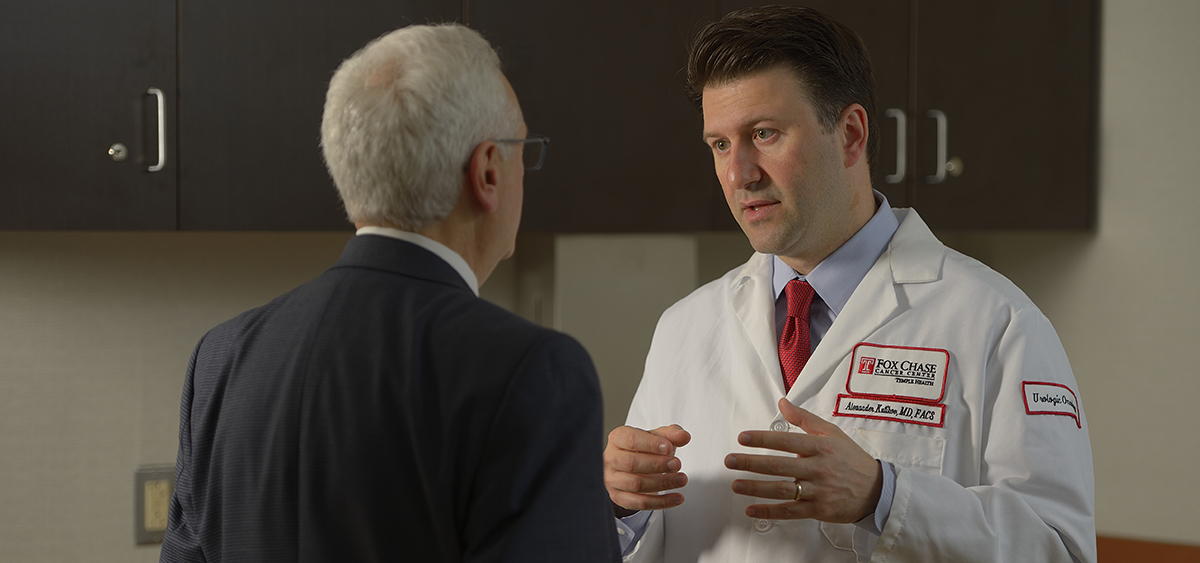 How to Find the 30 Percent: Tackling Diagnostic Challenges Following Muscle Invasive Bladder Cancer Treatment
While the standard of care for muscle invasive bladder cancer is to remove the entire bladder, in some 30 percent of patients, these organs do not harbor residual cancer, especially after chemotherapy treatment.

Today, there is no reliable way to identify which patients can safely avoid radical cystectomy surgery. However, a new Fox Chase Cancer Center trial is designed to understand why and how cystoscopy misses some cancers and to develop a standardized tumor quantification system to improve the diagnosis process.

"Radical cystectomy with urinary diversion is a high-risk, life-changing surgery, and our goal is to find a way to spare patients for whom it is not necessary," says Alexander Kutikov, MD, chief of the Division of Urology and Urologic Oncology at Fox Chase and senior author of the study.

The researchers are analyzing samples taken before diagnosis, after treatment, and then post-surgery, hoping to better understand the impact that a muscle-invasive tumor's genetics and location have on its response to chemotherapy. The findings also will help determine how often this kind of cancer hides under the mucosa and evades visual detection through the cystoscope.

"Huge opportunities exist to provide more accurate diagnostic evaluation for patients," Kutikov says. "We want to standardize descriptions of the tumor cystoscopic findings through a detailed mapping/scoring system. Post-cystectomy analyses of bladder tissue will help us better assess what was missed and why."

Entitled, "Assessment of Reliability of Cystoscopic Evaluation Predicting pT0 Urothelial Carcinoma of the Bladder at the Time of Radical Cystectomy," the trial is open for enrollment. Eligibility includes but is not limited to the following:

Male or female patients older than 18 years at the time of consent.
Patients with a diagnosis of urothelial carcinoma clinical stage T1-T4NanyM0.
Patients must have a clinical decision to proceed with radical cystectomy by any conventional approach (open, laparoscopic, or robot-assisted laparoscopic).

The trial excludes patients who undergo cystectomy with non-curative intent or patients who have undergone any prior pelvic radiation.

For more information or to inquire about eligibility, please call Fox Chase Cancer Center at (215) 214-1515.