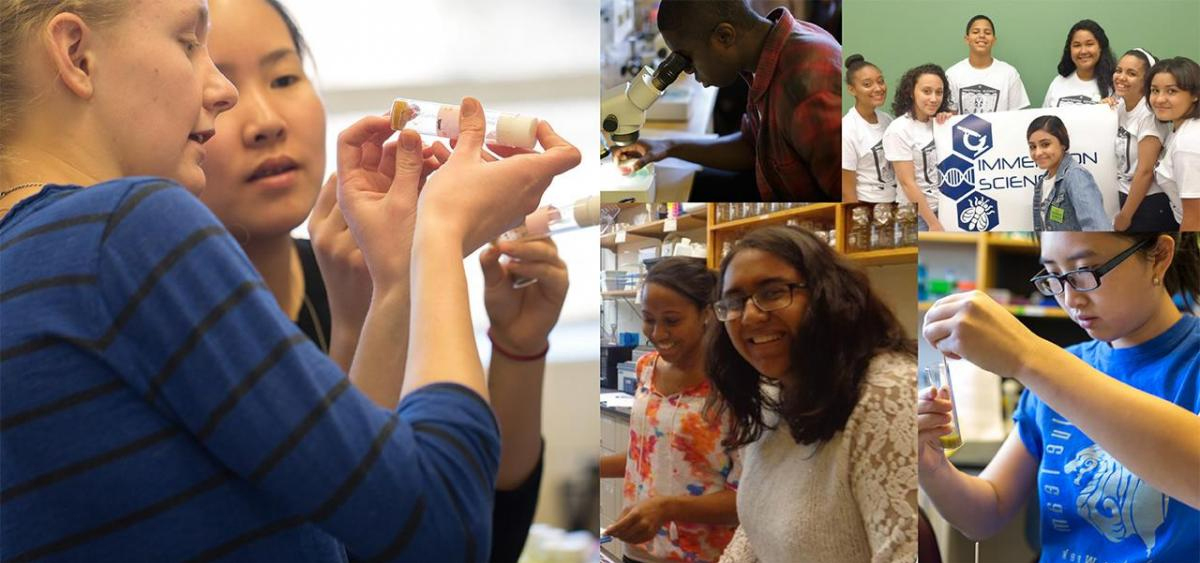 Immersion Science Program Opens Doors for Students
When it comes to training the next generation of scientists, Alana O'Reilly and Dara Ruiz-Whalen are taking a new approach that moves beyond the realm of expos and science fairs.

Together they run the Immersion Science Program at Fox Chase Cancer Center, a comprehensive program that allows students the opportunity to explore science in a hands-on way while also providing valuable data that can help working researchers. Ruiz-Whalen serves as the education director of the program while O'Reilly, an assistant professor at Fox Chase, is the scientific director.

Dara Ruiz-Whalen in the lab with Immersion Science Program students

"What they learn here is that this is where new discoveries are made," O'Reilly, an assistant professor and the scientific director of the program, said. "We want to empower the youth."

Students in the program learn by doing, and their work builds upon the foundation of O'Reilly's own research into how stem cells are regulated by food and how diet affects health – including cancer risk.

"What is a balanced diet? Every chemical you need for all your cells to work together at the same time is a balanced diet," she said. "We're taking what we did in the lab and are making it large scale as a way to discover the role of chemicals in cancer signaling."

The program fills multiple needs. First, it allows students to get practical experience working in the lab. Second, with students investigating and working on a range of chemicals, it allows the work to move at a greater pace.

"Giving students the chance to make an impact is an incredible motivator in terms of showing them they have this untapped potential," said Angela Le, a third year student at Drexel University and an ISP alum. "For some, ISP solidifies their interest in STEM and research. For me, ISP has shown me a way to make my own path. I hope to combine my love of science and art to teach students in a new, creative way, the way that Dara and Alana have taught me."

For fellow Drexel student and ISP graduate Brian Milenki, having the opportunity to do valuable work in cancer research was a moving experience.

"This is the first chance that kids actually have to do something, learn something new, and pursue an interest," he said. "For such a young student to actually give back to the world and have some research that can really mean something is incredible. It feels like you actually belong to something and like you contributed something positive to the world."

This is exactly what O'Reilly and Ruiz-Whalen had in mind when they began the program. Young people may feel helpless when a friend or family member is diagnosed with cancer, but being able to make an active contribution to ongoing research can make them feel empowered. Many in the program have brought parents or grandparents to Fox Chase to be treated.

Left: Alana O'Reilly, scientific director; Right: Hieu (Jeromy) Nguyen

"When students are presenting their findings not only to scientists and clinicians but also to their families, they are able to feel like they're contributing to the bank of knowledge of cancer research," Ruiz-Whalen said.

The program also encourages the students to work with one another and build relationships, with the hope that by learning from each other, they will create a culture where scientists can lean on one another and work together rather than compete.

"We teach them collaboration and how to work together because they are each other's future," O'Reilly said. "We're creating a whole new generation of scientists that will do things a different way."

In addition to teaching students, the Immersion Science Program runs training courses and programs for teachers. The Immersion Science Teachers Program trains high school teachers to implement lab practices that allow students to participate in real-time research experiments.

"We adapt the program so teachers feel it's worth their time to incorporate this into their classrooms to keep kids interesting and keep that pipeline of students," Ruiz-Whalen said. "We want students, no matter where they're from or what school they go to, to know there are doors to a future in science. Even if it's a door to a hallway with more doors, that first door has been opened and that's so important."

Learn more about the Immersion Science Program at Fox Chase.