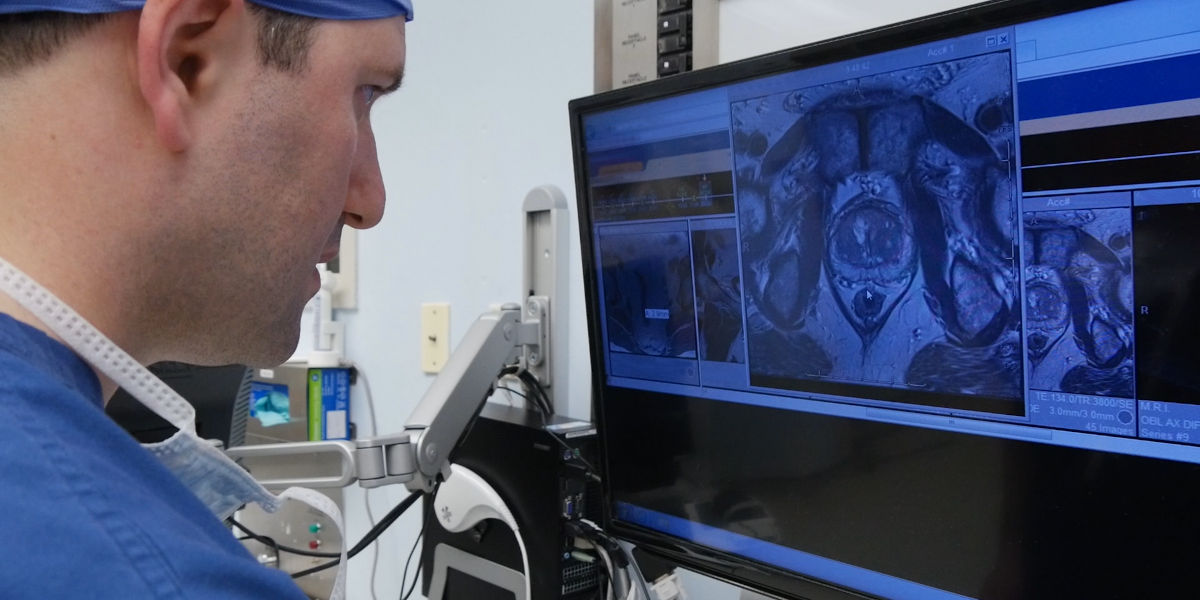 The Latest in Imaging and Prostate Biopsy Technology is at Fox Chase
Novel surgical and radiation techniques are making it easier for some patients with prostate cancer to prolong their lives following treatment. By employing the most modern clinical tools, Fox Chase Cancer Center offers the latest in imaging and prostate biopsy technology to improve patient care.

By using ultrasound multiparametric magnetic resonance imaging (ultrasound/MRI), the radiology team at Fox Chase can localize tumors within the prostate with a high degree of accuracy, identifying tumors that historically went unrecognized. Though transrectal ultrasound-guided prostate biopsy is the standard for initial diagnosis, test characteristics are imperfect as overdiagnosis of indolent cancers and underdiagnosis of biologically aggressive disease remain a common problem.

"Ultrasound/MRI fusion technology offers the potential to minimize the overdiagnosis of non-aggressive cancers, while maximizing the likelihood of detecting aggressive tumors," said Alexander Kutikov, MD, FACS, surgical oncologist at Fox Chase. "Biopsies guided by ultrasound/MRI fusion enable both physicians and patients to make more informed decisions ranging from prostate cancer diagnosis to treatment options, such as active surveillance or more radical interventions."

Fox Chase is one of the first institutions in the region to offer ultrasound/MRI fusion capabilities to patients undergoing prostate biopsy. The goal of maximizing detection of clinically significant prostate cancer and minimizing the diagnosis of indolent disease has the urologic community excited about ultrasound/MRI fusion technology. In fact, a manuscript titled "Defining Novel and Practical Metrics to Assess the Deliverables of Multiparametric Magnetic Resonance Imaging/Ultrasound Fusion Prostate Biopsy" submitted by Fox Chase was recently accepted by the Journal of Urology.

How does ultrasound/MRI fusion technology work?

The technology fuses pre-biopsy MR images of the prostate with ultrasound-guided biopsy images in real time to create a detailed, three-dimensional view of the prostate, reducing chances that an aggressive form of prostate cancer is missed. Biopsies are mapped, targeted and tracked in a 20-minute procedure done in an outpatient setting under local anesthesia. The result is excellent delineation of the prostate, as well as any suspicious lesions.

What are the benefits of this technique?

The benefits of ultrasound/MRI fusion biopsy are twofold:

It allows for precise targeting to evaluate lesions found on a Multiparametric-MRI. This technology can give patients peace of mind that aggressive disease is not being missed, and uncover aggressive cancer in some individuals with tumors in uncommon and remote locations in the prostate.
The use of ultrasound/MRI fusion technology has the potential to minimize the need for repeated prostate biopsies in the future.

How is ultrasound/MRI fusion biopsy different?

Ultrasound/ MRI fusion biopsy is a powerful diagnostic tool for the analysis, planning and targeted biopsy of the prostate. This innovative technology may result in fewer needle biopsies and better treatment decisions for patients with prostate cancer. It may also effectively detect tumors in men with prior negative biopsies but persistently elevated prostate-specific antigen (PSA) levels.

Which patients are good candidates for ultrasound/MRI fusion biopsy?

Those who:

Possess an elevated PSA level, and are contemplating a biopsy
Are due for a repeat prostate biopsy for suspected prostate cancer
Have a negative prior prostate biopsy with continued elevation or rising PSA
Are on active surveillance for prostate cancer and require rebiopsy

Have more questions about ultrasound/MRI fusion biopsy?

If you want to know more about ultrasound/MRI fusion biopsy, call 888-369-2427.