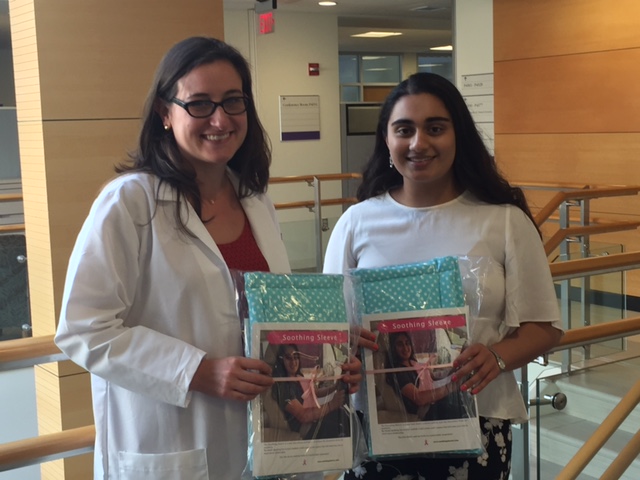 VIEW ALL POSTS
Devoted Girl Scout Goes for Gold by Comforting Breast Cancer Patients
During a TRIP Initiative to Fox Chase Cancer Center during the summer of 2015, Sanjna Shelukar, 17, noticed a cancer patient struggling with her seatbelt as she got into her car. She couldn't be sure, but guessed that wearing a seatbelt was extremely uncomfortable for the woman because she had had some sort of procedure done on her chest. Immediately, Shelukar decided to get involved.

"I've been a Girl Scout for 13 years," Shelukar said, "One of our core values is to make the world a better place. I saw that there was a need and knew I had to help."

At the time, Shelukar was planning a project to submit for a Girl Scout Gold Award, the highest honor a Girl Scout can earn. The competitive award requires applicants to identify and solve a real problem that affects their community. After doing some research, she decided to create a seatbelt sleeve cushion for mastectomy patients.

Shelukar worked throughout the year, developing prototypes, and getting feedback from Allison Aggon, DO, a surgical oncologist specializing in breast cancer, as well as our nurse navigators. After months of trial and error, Shelukar had her final product in June 2016. It's a soft cloth-covered cushion that wraps around the seatbelt and stays in place with a Velcro strip fastener. She named it the Soothing Sleeve.

Her next step was production, so along with six of her classmates at Wissachickon High School, Shelukar created 40 seatbelt sleeves, which were distributed to breast cancer patients at Fox Chase in the fall of 2016.

While developing the Soothing Sleeve, Shelukar also volunteered as a student researcher in the lab of Kerry Campbell, PhD, director of the Cell Culture Facility at Fox Chase. There, she assisted with Dr. Campbell's research on natural killer (NK) cells to treat multiple myeloma, a plasma cell cancer that affects about 30,000 people each year.

"I've always been a curious person, which is why cancer research is so interesting to me," Shelukar said, "There's always more to know and discover."

A senior, Shelukar is already thinking about her future and what kind of career she wants to pursue. "I'm hoping to pursue an undergraduate degree in biology, with a pre-med focus," Shelukar said. "Working in Dr. Campbell's lab, along with developing the seatbelt sleeve definitely piqued my interest in breast cancer research."

Rather than mass produce Soothing Sleeves, she developed a website that shows people how to make their own sleeves. Shelukar hopes to inspire others to join her effort and make them for others, too. Ultimately she wants to offer a sleeve to every breast surgery patient at Fox Chase.

The Girl Scout Council recognized Shelukar's extraordinary efforts with its Gold Award in November 2016.