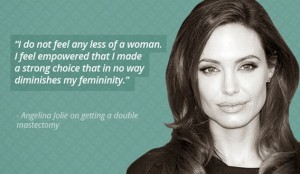 VIEW ALL POSTS
The Importance of Sharing – Especially If It Involves Cancer Risk
Genetic testing for cancer risks has been getting a lot of attention in the media this year, spurred by news that Angelia Jolie underwent a double mastectomy, after testing positive for a gene that put her at an 87 percent risk of developing breast cancer.

Jolie sought out the genetic mutation test because her mother died of ovarian cancer at the age of 56, and received the surgery, so her children would never have to say, "Mom died of ovarian cancer."

Jolie's story demonstrates a hard truth: If you carry a genetic mutation that increases your risk of cancer, there's a 50-50 chance your children, siblings and parents also carry the gene. But, there's also a chance that your more distant relatives could be carrying the gene as well.

Why not get tested?

That's why we, in the Risk Assessment Program, encourage anyone who has tested positive to a gene mutation that increases the risk of cancer, to share your test results with aunts, uncles, and cousins and push them to get tested as well. It could save their lives.

Neglecting to disclose test results with relatives can impact their ability to get the right medical care, and could cause them to undergo unnecessary surgeries and procedures. A family member may even develop cancer before discovering they carry the same cancer risk mutation, whereas sharing your test results with relatives could reduce their risk for future cancers, or even detect the disease at an earlier, more treatable stage.

We've got the tools to help.

In the Risk Assessment Program, we provide brochures with our contact information and reasons why relatives should consider genetic testing. Our program also provides personal family letters, copies of your genetic test results, as well as copies of your family tree to help share this information with your family. If family members don't live locally, we can help locate genetic counselors closer to their homes.

If you would like help sharing your test results with your family members, please call one of our genetic counselors at 877-627-9684. We'd be happy to help.