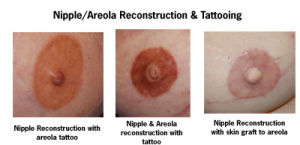 VIEW ALL POSTS
Nipple Tattooing Provides the Finishing Touch Following Breast Cancer Reconstruction
Techniques in nipple tattooing are rapidly improving and give patients reconstructive options that were previously not available. In most cases, tattooing is performed three months after the nipple has been surgically created on the reconstructed breast to allow for healing of the nipple wound. Tattooing at earlier time points may result in poor pigment uptake and irregular fading.

Tattooing restores color to the areola and nipple and eliminates the need for skin grafting and skin graft donor site wounds used in older techniques. It can also help in camouflaging scars created by the mastectomy and reconstructive procedures. The procedure is performed with patients fully awake under sterile conditions. The areola size, shape and positioning are selected with the patient to match the native breast in unilateral reconstruction or designed for both sides in bilateral reconstruction. Sensation at the site of the areola is often diminished as a result of prior surgeries so no local anesthesia is used during tattooing.

The areola can be shaded to match a natural looking areola and is no longer a uniform disk of color as performed in earlier tattooing techniques. The edges can be faded and highlights place in the areola to enrich the appearance and provide depth. Occasionally, revision may be necessary to achieve the desired result. Each breast tattoo takes approximately 40 minutes to complete.

Surgically created nipples do not change in size or shape with arousal or temperature changes like natural nipples. They also offer no erotic or normal skin sensation. Furthermore, many women no longer need to wear a bra for support after breast reconstruction, especially in implant based reconstruction. In such patients the projection of the reconstructed nipple may be seen through their clothing. For these reasons some women choose not to have nipple reconstruction.

Advances in three dimensional nipple-areola tattooing can resolve these issues for women by providing the appearance of a reconstructed nipple but eliminating the concern about over projection. Three dimensional nipple/areola tattooing creates a nipple by shading the skin within the areola so that it appears as though the nipple is present without having an actual soft tissue nipple. Patients who undergo nipple/areola reconstruction along with breast reconstruction obtain the most natural and realistic appearing reconstructed breasts. In many cases they are indistinguishable from real anatomy.

See related blog – How are the nipple and areola reconstructed during breast surgery.