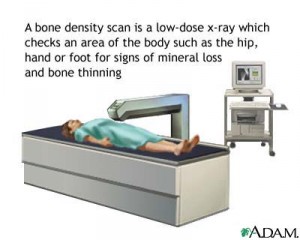 VIEW ALL POSTS
Should men with prostate cancer receive DEXA screening?
Bone mineral density (DEXA) screening among men with prostate cancer: a missed opportunity

Prostate cancer is the most common cancer among men in the United States and the second leading cause of cancer death.  The use of androgen-deprivation therapy (ADT), which reduce male hormone levels, or prevent them from reaching the prostate cancer cells, prolongs  survival and improves quality of life, and is used in close to 50 percent of all men with prostate cancer.

Because ADT is associated with a decrease in bone mineral density and an increase in fractures, the American College of Physicians recommends bone mineral density (DEXA) screening for all men who are being treated with ADT.

Unfortunately, a recent report  from a national database of cancer care, the Surveillance, Epidemiology and End Results (SEER) and Medicare data, found that less than 15 percent of men on ADT are being screened.  Elderly men and African American men were the least likely to be screened.  These statistics are particularly worrisome because there are several effective medications that can delay or even reverse the loss of bone mineral density.

Men with prostate cancer patients who are receiving  ADT should ask their physician if screening with DEXA scans is right for them.