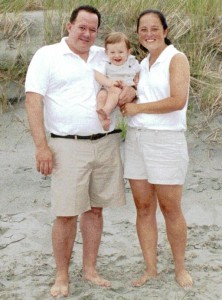 VIEW ALL POSTS
"Melissa, you have ovarian cancer" (Part 1 of 2)
During the summer of 2007, I worked as a bartender at the beach. I wasn't feeling well and came home every week for one appointment or another. I visited the emergency room several times due to back discomfort, nausea or pain down the back of my leg. I knew something was wrong, but the doctors could not provide a definitive diagnosis. I didn't want to become a hypochondriac but knew I needed to listen to my body.

Brendan and I had been married four years and we were the lucky parents of a two-year old son named Brendan. While some doctors were quick to blame my exhaustion on the fact that I was chasing after a toddler, I was motivated to get answers when I looked at that smiling face that called me 'mom.'

Finally, a CAT scan in August in revealed an ovarian cyst. I still have the phone message from my primary doctor who said, "It's probably nothing since you are of child-bearing age." Although we could have watched and waited, I begged my gynecologist to remove the cyst. With a low CA-125 score, she was convinced cancer was not the source of my problems.

On October 1, 2007, I had a procedure to remove the cyst. In recovery, the surgeon said everything looked great and she would see me in six weeks. But two days later, she called. My first thought was, "Wow, this is really nice she is calling to check on me." I told her that I was resting. "That's good to hear, but I am calling to say things weren't what we thought." What did we think? I was 31 years old. Could it be that nightmare I alluded to earlier was ending or just beginning? The pathology came back, and it was positive. She said, "Melissa, you have ovarian cancer."

We are lucky enough to live 10 doors down from my parents. I vividly remember taking a walk down the street that never seemed so long to tell them that their youngest of four daughters had a bleak road ahead. The statistics for ovarian cancer survival are frightening.

The next couple days were a blur as we met with a specialist and just for some added excitement, my husband wound up in emergency surgery for a torn retina.

The first doctor recommended a total hysterectomy as soon as possible. He offered to perform the surgery on his day off to get the ball rolling. When we asked about fertility preservation, he said he wasn't sure he could do it. He offered to do some research about my particular type of cancer. Within 10 minutes of leaving the office, he called to say he finished his research and could probably salvage my fertility. I had visions of him scanning through Wikipedia to make a life-altering decision for me. Consequently, I didn't feel like I was in the best of hands.

We canvassed family and friends about where we should go next. We wanted the best of everything. Shouldn't everyone want that? We asked other cancer survivors where they would go if they were in my shoes. Two names kept coming up-Fox Chase Cancer Center and Dr. Mark Morgan. "You can't go wrong with him," is what they'd say. This could not have been more evident from the onset of my relationship with Fox Chase.

We called and got an appointment for a couple weeks out. Although we weren't keen about the wait, we took solace in knowing that Fox Chase came so highly recommended. Sensing our apprehension about waiting, the scheduler said, "We will let you know if something else opens up." They called me the day of Brendan's eye surgery. I explained where I was and how I was on a emotional roller coaster. Not only did she move up my appointment, but she wished us luck with Brendan's surgery. I knew she had really listened to every word I said and this wasn't going to be just your run-of-the-mill relationship.