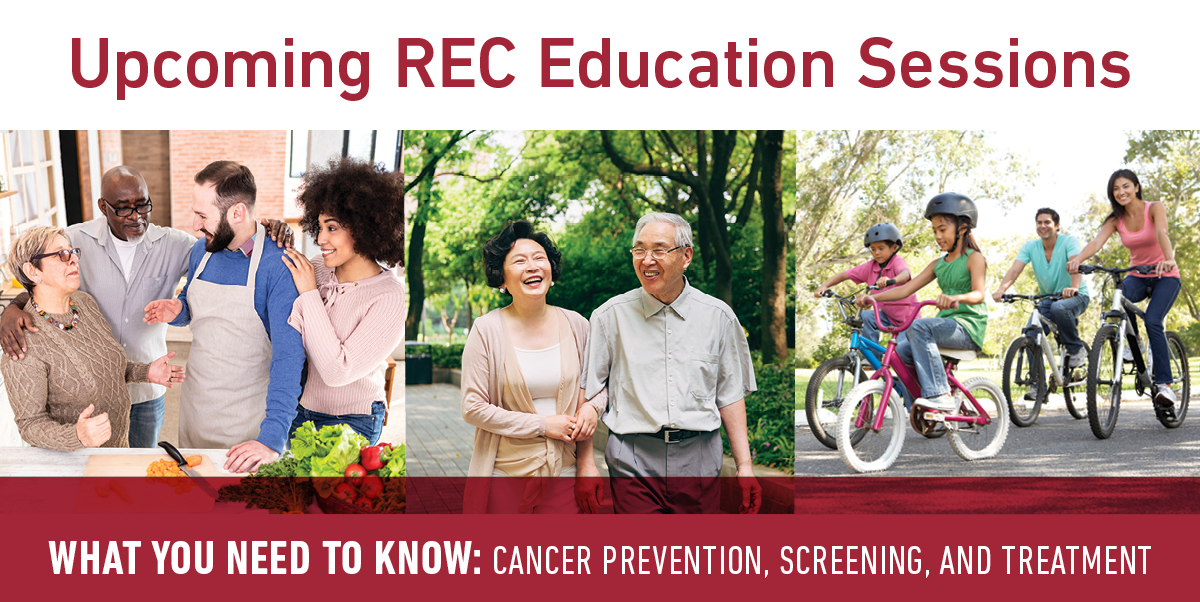 The Lippincott Resource & Education Center offers free monthly hour-long education sessions.  The sessions will be led by specialists and provide information to patients, their family, staff, and community members on various cancer topics. This is a great chance to have your questions answered as well. Sessions have been held on skin cancer prevention, clinical trials, nutrition, spirituality, genetics, survivorship, caregiving, and more. We're always open to topic ideas, so feel free to reach out if you'd like to suggest one!
Upcoming Education Sessions
Fox Chase Cancer Center's Lippincott Resource & Education Center (REC) invites you to attend upcoming virtual free education sessions.
These virtual sessions will discuss cancer prevention, screening, and treatment options. Participants will also learn ways to help themselves and family members make the best choices to improve their health and wellness. There will be opportunities to submit your questions prior to the virtual sessions or participate in a live Q&A.
To register, or more information, please call 215-214-1618 or email: [email protected].
---
Previous Events
Missed a workshop? See our archive
June 23, 2020
July 13, 2020
Additional Resources
Patient Resource for Genetic Counseling: aboutgeneticcounselors.org
August 19, 2020
September 22, 2020
October 27, 2020
Additional Resources
Cancer, Cannabis, and the Search for Relief (PDF) written by Marcin Chwistek, MD, FAAHPM
Information on Marijuana and Cancer from American Cancer Society
November 18, 2020
Additional Resources
Good and Cheap by Leanne Brown (PDF)
December 9, 2020
Additional Resources
Learn more about Michelle Stortz's yoga programs
Winter Solstice Yoga Nidra Program on December 20, 2020 (PDF)
Virtual Yoga Program at Fox Chase (PDF)
Stronger After Cancer Course by Michelle Stortz (PDF)
January 20, 2021
Additional Resources
Survivorship Care for Cancer-Related Late and Long-Term Effects (NCCN Guidelines for Patients)
Survivorship Care for Healthy Living (NCCN Guidelines for Patients)
NCCN News Release featuring Dr. Denlinger
February 16, 2021
March 30, 2021
April 21, 2021
Additional Resources
Overnight Oats and Cashew Mac & Cheese Recipes (PDF)
American Institute for Cancer Research's (AICR) New American Plate (PDF)
May 19, 2021
May 27, 2021
June 1, 2021
July 14, 2021
July 20, 2021
August 20, 2021
September 14, 2021
October 19, 2021
November 16, 2021
December 1, 2021
January 19, 2022
February 22, 2022
March 11, 2022
March 16, 2022
June 15, 2022
July 12, 2022
August 17, 2022
October 12, 2022
October 25, 2022
November 8, 2022
December 13, 2022
January 11, 2023
February 21, 2023
May 23, 2023
June 13, 2023
October 18, 2023
November 21, 2023