Geographic Management of Cancer Health Disparities Program (GMaP)
The Geographic Management of Cancer Health Disparities Program (GMaP), initiated in 2009, is a national program designed by the National Cancer Institute (NCI) to enhance capacity in the areas of disparities research; recruitment and career/professional development of underrepresented investigators, trainees, and students; communication and dissemination; and evaluation, as part of building region-based "hubs" for the support and efficient management of cancer health disparities (CHD) research, training, and outreach.
The regional GMaP hubs are unique in that each brings together CHD investigators, underrepresented trainees and students, community health educators, and community members to work together.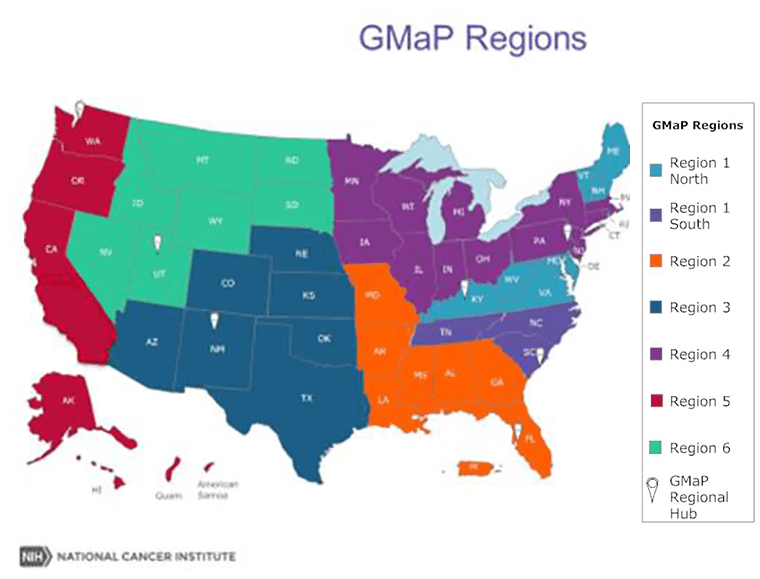 GMaP Region 4
Fox Chase Cancer Center Temple Health serves as the hub for Region Four, which includes more than 800 members and 40 partner institutions in Connecticut, Iowa, Illinois, Indiana, Massachusetts, Michigan, Minnesota, New Jersey, New York, Ohio, Pennsylvania, Rhode Island and Wisconsin. GMaP Region Four, also known as the Cancer Disparities Research Network, is building a synergistic network of investigators to support and manage health disparities research, training and outreach.
Our mission is:
To advance the science of cancer health disparities
To contribute to the next generation of cancer and cancer health disparities researchers
To achieve measurable reductions in cancer health disparities
GMaP invites all cancer researchers with an interest in disparities research or expanding the diversity of the cancer research workforce to participate in this NCI-supported network.
Sign up for GMaP Region 4 E-Blasts so that you will be alerted when we share new jobs, resources, trainings, and funding opportunities.